'Men of UK' bring something special to show us thanks to GayPornStarsTube. Damien cross is a good looking lily-white Englishman with a great body and has that innocent kind of public school look that only the English have. In the last episode, Damien Cross threw him out of his home and told him he didn't want to see him again (this was after they had a fantastic sex session), so Gabriel left the apartment.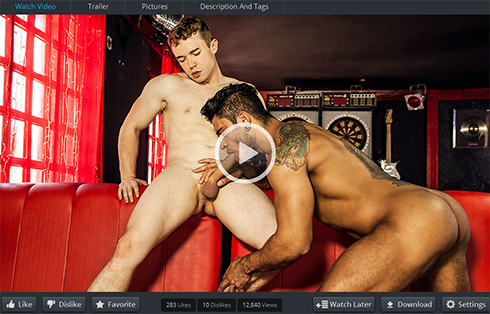 This episode starts with Gabriel walking into an empty bar except for the off duty sexy Spanish man, Diego Lauzen. Diego hears Gabriel on his phone telling Damien that he doesn't want to hear from him again and puts the phone down. Diego comes and sits down next to him and as soon as Gabriel tells him that him and his boyfriend have just split up, Diego moves quickly in and before Gabriel knows what he is doing, they are fighting with their tongues as they kiss and caress each other.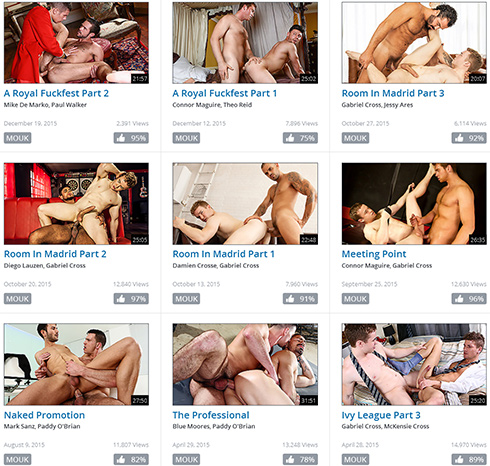 They are so horny that they almost rip each other's clothes off to get to each other's throbbing seven inch hard dicks. Gabriel wins and is soon bending over and sucking on Diego's thick Spanish cock with an eager urgency. Diego looks stunning as his Gabriel deep throats his dark thick dick. He sighs with pleasure and then gets Gabriel to get on his hands and knees where he teases Gabriel's sensitive asshole by circling it with his probing tongue.
Gabriel gets up, his asshole dripping with spit and Diego sucks Gabriel's cock for a while before Gabriel goes back to sucking on his, and Diego gives him a great face fuck back.
These young men are so horny that Gabriel is quick to turn around onto his knees once again and Diego spits directly onto his twitching asshole. Diego gets back up and sinks his condom covered cock right up, deep into Gabriel's hungry asshole. Gabriel groans out load as his asshole gets stretched by Diego's thick dick and he feels Diego's ball sack tap against his stuffed man hole as he gets fucked doggy style.
These two go wild as they fuck hard and fast in the empty bar room and Gabriel Cross gets a good ass fuck in all sorts of hot positions until he finally shoots a boiling hot load of fresh cum over his smooth hard stomach. Diego Lauzen spurts his cum over Gabriel's body almost straight away, and once they have finished ejaculating, Diego lies on top of Gabriel as they kiss, and there sticky cum mixes onto both their hot bodies.
This is Diego Lauzen's third flick with this paysite. As well as this flick, you can also see Diego in 'Going Down' Parts 1 and 2 which were first shown back in January 2014. He looks irresistible with his dark tanned skin, tattooed muscular body and sexy green eyes. He is versatile and has a seven inch uncut cock. He is six feet tall and weighs 183 pounds.
Gabriel Cross has starred in thirteen hardcore flicks with them since he started in December 2014 with Paddy O'Brian in 'Men of Anarchy Part 1' and over 23,000 of us watched him getting a rough ride. Gabriel is an eager and willing bottom and has a seven inch cut cock. He has blonde hair, brown eyes and is five feet five inches tall.