Anything starring someone who is exclusive to Men.Com is worth watching. Simple. 'Str8 To Gay' (one of the Men paysite networked sites) is more than happy to show you this exciting hardcore episode of 'My Brother In law' starring exclusive model and actor, Bennett Anthony with the cute, young looking, Jack Radley.
Bennett Anthony Has striking looks with his red hair and matching beard, and his sparkling blue eyes. If you want to make this man happy all you have to do is take him and his dog, Bruce, for a walk in the summertime. Bennett has a muscular body full of colourful tattoos. He is versatile and has a seven inch cut dick. He is five foot eight and weighs 185 pounds. Bennett has starred in twelve hardcore flicks through Men.com, all of them a big hit, and seen by many horny men. One great series he has been in is 'Pretty Boy Parts 1, 2 and 3' where he plays a high class rent boy. If you haven't seen it yet, you're really missing out.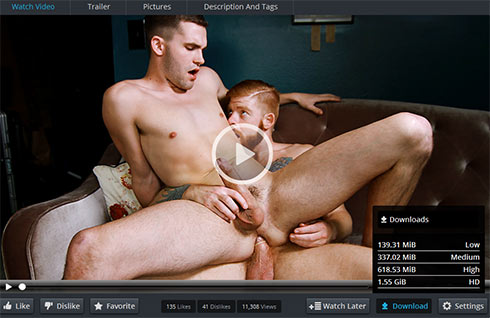 Jack Radley has that 'boy next door' cuteness about him that even some of the exclusive porn models for Men.com can't get enough of. His first two movies were 'Dirty Magazines', with Colby Jansen, and 'Personal Porno', with Tom Faulk. Jack is five foot eleven and weighs 152 pounds. He has brown hair and cheeky hazel eyes. He is a versatile bottom with a beautiful tight ass, and he has a lovely eight inch cut cock.
This flick starts off with Bennett Anthony coming back to his hotel room and moaning to his brother in law, Jack Radley, that they won't let him see his wife so that he can have sex with her – she's in prison, by the way. He is annoyed and frustrated. Jack says he is feeling horny too, and suggests that as they have nowhere to go to why don't they do something together? Bennett is shocked and tells him that in no way at all that is he gay, and slaps Jack's hand away from between his legs. Jack tries to persuade him by telling him that, as he is his sister's twin, they like to do the same things, and he is just as good as her. Only because he feels so frustrated does Bennett agree – but as long as her brother doesn't tell her, or anybody else.
Jack Radley opens Bennett's jeans and takes his cock out of his pants. Bennett is hard within seconds, and his pants slip down around his ankles as Jack sucks on his cock taking it all way to the back of his throat. Jack Radley pushes Bennett back on the bed and as he continues to suck on his cock. He massages Bennett's ball sack and strokes on his own cock at the same time.
Bennett Anthony gets so excited he needs a tight hole to shove his aching dick into. He gets Jack on his hands and knees and pushes his cock all the way, deep into Jack's asshole, which clamps around his cock like a clamp as he drills him harder and faster on his hands and knees.
Bennett then sits on the couch, and this time Jack sits on his cock and rides him up and down. They go back to the bed with Jack on his back and Bennett slamming his desperate cock in and out of his hot hole. Bennett watches Jack's face as he fucks him, he sees him scrunch up his eyes and stroke on his cock, he gets more than excited as Jack screams out that he is about to cum. He continues watching in amazement as Jack's hot spunk sprays over his body. Bennett Anthony pulls his cock out, jerks it up and down for a couple of seconds, he feels it swell in his hand and his juicy hot spunk shoots, joining Jack's over his firm, young body.
These are by far the best kind of brothers-in-law – the kind we could all do with!