Men.com go all around the world for the best locations and the best men for your entertainment. This time they have gone to Europe to film a fantastic hardcore new series for 'Str8 To Gay' starring Rocco Steele and Josh Milk, and this movie is the first one both of these men have starred at Gay Pornstars Tube.
Rocco Steele is a powerhouse of a bear; he is rugged and covered in tattoos. This maybe his first flick for Men.com, but he is well known in the adult industry and has 64.6 followers on twitter. He has also won the Mr New York and Mr International titles. One of his followers is none other than Rocco Reed, another hot bear and Men.com exclusive model. Rocco is a great top and likes nothing more than shoving his seven inch cut cock into a hungry bottom's tight asshole. He is five feet ten inches tall and weighs 205 pounds.
http://www.gaypornstarstube.xxx/video/eat-prey-fuck-part-1-SY8rEtLHhUk.html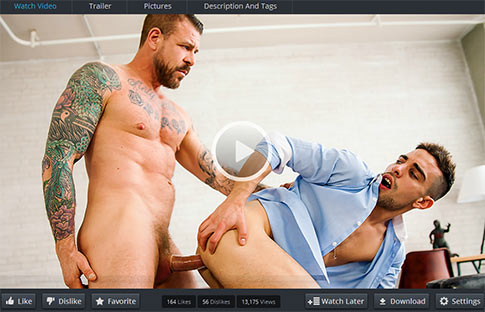 Josh Milk may not be quite as well known, but he still has over nine thousand followers on twitter and won the Mr Spain title in 2014. He has a lean body with a pierced nipple and high cheek bones. He is a versatile top with a seven inch uncut dick. Josh is five foot five inches tall and has brown hair and emerald green eyes.
In this first hot episode Rocco Steele is moving into his newly rented apartment. He has gone to Europe to get away from it all, he doesn't know what he wants except for the fact he is in search of himself, to find himself.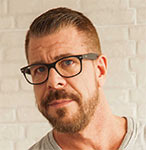 The first person he meets as he moves in is Josh Milk who has helped him with his bags, and they exchange telephone numbers. Within minutes Rocco's phone rings and its Josh telling him he still has another one of Rocco's bags. Rocco asks him to bring it to his apartment, and there is a knock on the door a few minutes later. Rocco invites Josh in and starts telling him that he is here to find himself. He sits in a chair as Josh walks behind him undoing the buttons of his sleeves as he does so.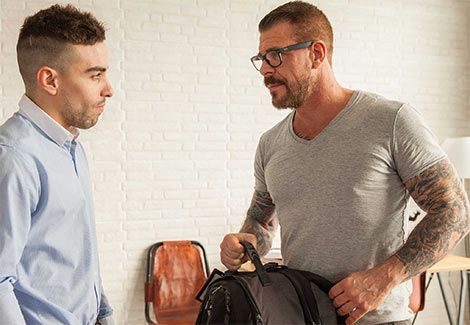 Josh leans over from behind and runs his hands over Rocco's strong shoulders and chest, kissing him on the cheek at the same time. Rocco takes his glasses off and kisses him back on the lips as Josh's hand goes under his tight t-shirt and fondles his erect nipples.
Josh walks around him and squats in front of Rocco's spread legs. Josh opens up Rocco's pants and takes his thick cock into his hands. He looks up into Rocco's eyes and licks his cock all the way up, over, and back down again. Rocco lets out a soft sexy growl of gratification as Josh opens up his soft lips, takes the cock head into his mouth and Rocco watches it disappear to the back of Josh's throat. Rocco's eyes roll backwards in his head as he feels the full pleasure of Josh's Spanish lips sucking on his stiff dick.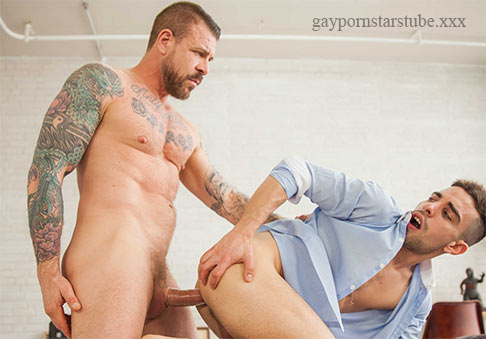 With his cock bathed in saliva, Rocco gets Josh to climb onto the table and to get onto his hands and knees. Josh bites onto his bottom lip as Rocco spreads his tight hole open with his fingers and licks at his enticing entrance. Rocco feels how tight his ass is as he gently inserts a wet finger into him and feels his muscles automatically clamp tightly around it.
Rocco stands up, rolls on a condom and eases his aching cock inch by inch deep into Josh's wet slippery crack.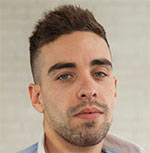 Both men cry out in unison as Rocco slides it slowly in and out in long smooth stokes as Josh pumps on his own throbbing erection. He fucks him doggy style for a while and then Rocco sits on the table and Josh Milk straddles his cock. They fuck each other slowly at first but then go faster and faster. Their hot sex turns into a wild frenzy and as Josh Milk lets out one more howl of ecstasy. He lives up to his name as his man-milk gushes out of him and pours all over the floor below. Rocco Steele rips his condom off and jerks his cock two or three times, then spills his hot cum onto Josh's eagerly waiting tongue.
With his deep and growling voice Rocco thanks Josh for delivering… the bag.