One of the best things in life is having a good old fuck session, the second thing in life is watching a good old fuck session, and that is exactly what you get in this hardcore flick made by Men.com, for 'Gods Of Men.' It stars Tanner Shield and Jimmy Fanz. There is no messing around in this flick; it's straight on full on sex from beginning to end as we see these two get it on in the bedroom.
Tanner Shields is a virgin to Gaypornstarstube.xxx and this is his introduction. He is a good looking young man and looks like the athletic student type. He is versatile and has a seven and a half inch cut dick, he he's brown hair, blue eyes, is five feet ten inches and weighs 165 pounds.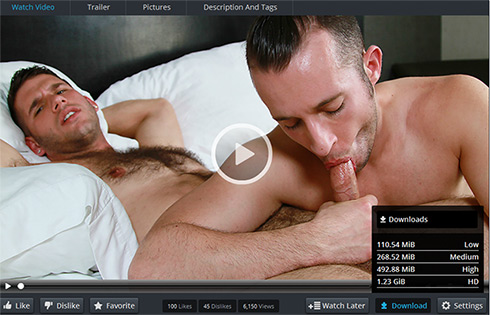 Jimmy Fanz on the other hand has been in twenty nine hardcore flicks since starting with Gaypornstarstube.xxx back in May 2012 in 'Fraternization' with Tyr Alexander, and has since got a following of over 73k of horny men on Twitter. He is very popular and is in high demand around the world. He has a cheeky, happy look about him with a coating of fur over his lean hard body. He is a versatile bottom with a six inch cut cock, he has short brown hair, brown 'come to bed' eyes, is five feet eleven inches tall and weighs 175 pounds. If you ever get the chance to meet up with him, he loves to be tickled; just saying.



Tanner shield is lying on top of Jimmy Fanz on crispy white sheets; their nipples rub together as they kiss passionately. Tanner moves quickly down Jimmy's hairy body, gets between his legs and sucks and strokes on his hard cock. Jimmy spreads his legs a little bit wider which lets Tanner massage his balls at the same time. The camera zooms in as we see Jimmy's cock getting wetter and wetter as it goes in and out of Tanner's cock-sucking lips.
Tanner groans urgently as Jimmy takes his thick cock into his mouth and as he takes a tight grip on his balls he slowly sucks on his cock taking it inch by inch, making Tanner growl out with extreme pleasure.



These boys do not waste any time, each one knows what they are doing and as animalistic lust takes over and takes charge tanner moves Jimmy around and licks his hairy asshole. Jimmy helps him out by spreading his asshole open even more and Tanner finger fucks him before he gets down once again and licks his twitching hole until it drips with his spit.
Jimmy rolls over and Tanner teases him with his cock as he slaps it across his ass a few times before he slides it straight up his tight asshole which makes Jimmy cry out for the first time. Jimmy's face says it all as he grits his teeth and carries on moaning and groaning with each deep thrust of Tanner's hips.