'Drill My Hole' are more than proud to show us the fantastic new series the gay world has been waiting. Feel the force with Luke Adams as a young Luke Skywalker; let it be with you and the hairy muscular bear of a man, Jessy Ares who plays Obi-Wan. It's time to get those lightsabres out and get them into action as we go deep into the void.

We start at the beginning where Luke Adams meets up with Jessy and Jessy hands Luke his lightsabre. Jessy tells Luke about Darth Vader, and who Jessy is really. He tells Luke it's time for him to feel the force as he strokes his muscular thigh. Luke can't help himself and starts to kiss Jessy's handsome, bearded face.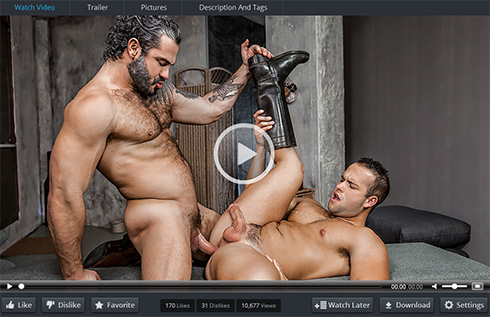 They quickly strip off their outfits and Jessy pushes Luke's head down and gets him to suck on his dick. Luke licks and kisses Jessy's hairy hard body and then goes back to his throbbing seven and a half inch cock. Jessy gets more than excited and starts to face fuck Luke's young smooth face. Jessy bends over and smacks Luke's ass at the same time as he face fucks his hungry and eager lips.
Jessy then gets on his side and shows Luke what a real Jedi can do with his mouth and body as he proves just how experienced he really is. Jessy lies flat on his back and as Luke stands over him, he licks and sucks his smooth heavy ball sack making Luke moan out with sheer, undiluted pleasure.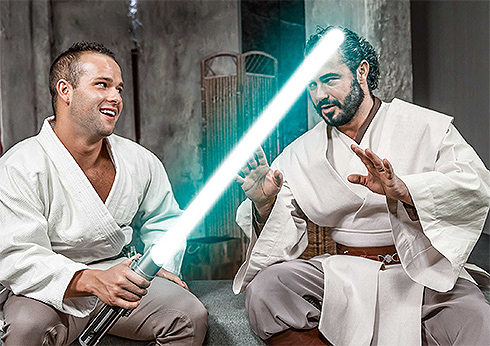 Luke is then made to go on his hands and knees and constantly growls as Jessy darts his tongue in and out of his asshole, making sure its soaking wet, and all lubed up ready for his cock to plunge all the way into him.
Luke cries out as Jessy really does show what the force is all about as his dick almost splits his asshole wide open as he shoves it into Luke's dark void. Luke's asshole is so tight that both men grunt and groan around the bed as they carry on fucking hard and fast in many positions. Sweat pours down their hard bodies and Luke Adams is the first one to cry out as his asshole carries on getting fucked deeply as his cum spurts out all over him. Jessy Ares pulls his cock out and as he looks into Luke's eyes, he spills his steaming hot man spunk over Luke's ravished body.
After they have finished fucking, the next thing to do is to find a spacecraft and a pilot to carry on with their mission. The saga will continue…

Jessy Ares
is an amazing man with a great hairy and muscular body. He is a six foot god with brown hair and sexy brown eyes. He is a versatile top and loves fucking tight holes with his seven and a half inch uncut cock. Jessy has starred in twenty six hardcore flicks for Men.com, including the fantastic 'Him' series.
Luke Adams
is a hot cutie with sparkling green eyes, a smooth hard chest and a cheeky grin. He has brown hair, is a versatile bottom who can get into all sorts of unbelievable positions, and he has a seven inch cut cock. Luke has also starred in a lot of hardcore vids for Men.com and also won the best 'New comer' award in 2015 and has loads of fans following him on twitter, as does Jessy Ares.