MEN exclusive star, Topher Di Maggio, and Landon Mycles star is this fantastic hardcore movie which is bound to get those juices flowing. 'Gods Of Men' show us what people Topher do when they have nowhere else to go, especially when they have a firm young body and a virgin asshole.
Topher Di Maggio has agreed to pay a couple of bills for his cute neighbour, Landon Mycles, whilst he is away for a while. In the meantime, Topher finds out that he has been evicted from his house and needs somewhere to live fast. Its perfect timing with Landon being away, so he uses his house whilst Landon is away, but Landon doesn't know he's living there.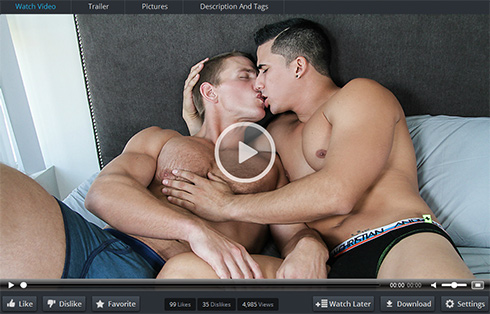 When Landon comes home though, he sees through his glass doors that Topher is lying naked on his bed. He stares at Topher's firm naked ass through the doors with a smile on his face and surprises Topher by jumping on his naked body. Di Maggio explains that he is squatting there, and why, and Landon has a good idea what DiMaggio can do to stay there. Landon tells Topher that he can stay, but only if he does something for him in return. Topher is straight and has never had sex with a man before, but knows he needs somewhere to live, so agrees to have sex with Landon.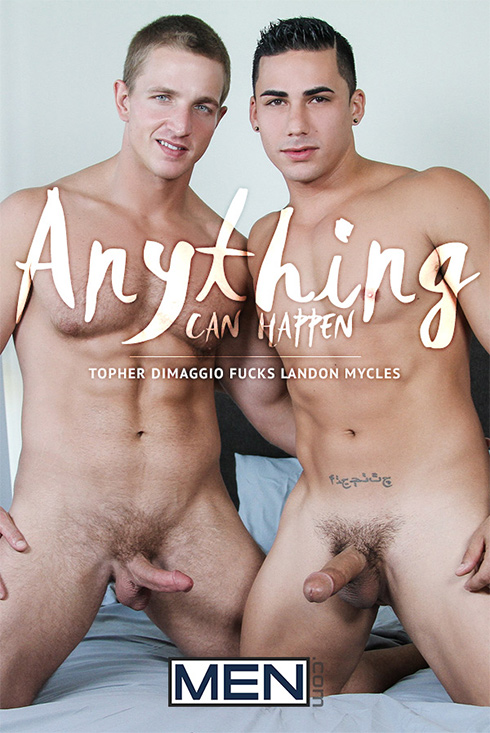 Landon kisses Topher on his soft velvet mouth and then stands up and strips naked with Di Maggio staring at his smooth hard chest and eight inch dick right in front of his nose. Topher lays down on his front, and as he takes another man's cock between his lips for the first time, he can feel his hard dick pressing, and grinding into the hard mattress below him. Like most so called straight man, once he gets a sniff of another man's cock, he goes wild with lust, and even manages to deep throat Landon's thick hard cock.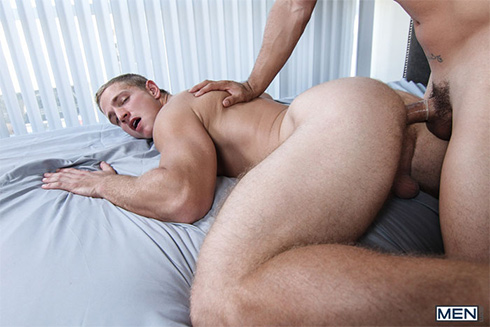 Landon sucks on Topher's exclusive dick for a while, but what he really wants, is that firm ass he saw through the glass doors earlier on. Landon sits down and Without any lube up his virgin ass, Topher sits down on his cock, and as feelings of electricity run through his entire body, DiMaggio rides him hard and fast like a cowboy on his horse.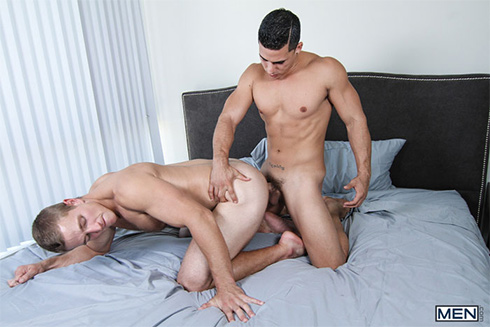 Landon Mycles tortures his ass with his thick dick in the missionary position until they feel their balls tighten up and their cocks throb ready to be unloaded. Landon moves up Topher's body, and as they jerk on their cocks, Landon squirts his thick creamy jizz over Topher's face, and DiMaggio shoots his over his smooth hard stomach.
This is Landon Mycles's first hardcore movie with MEN, but not his first in the adult industry and he has loads of followers on his Twitter page. He is a cute versatile young man, and has an eight inch cut dick. Landon has brown hair, beautiful blue eyes and is six feet two inches tall.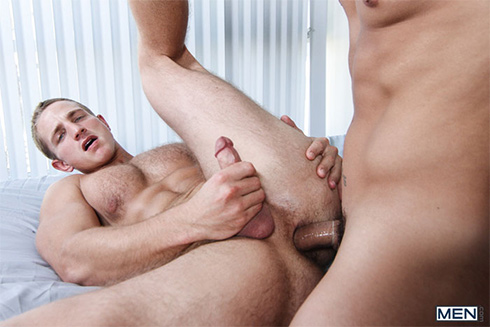 Topher Di Maggio is an exclusive star to MEN and has that cute college kid look about him. He has a good hard young body and a seven inch cut cock. Topher is versatile and has brown hair, sea blue eyes, and lips that where born to suck cock. Topher is from Houston Texas and he has been with MEN since February 2015 and has starred in thirty nine hardcore movies for them since then, which includes the great series 'Batman V Superman : A Gay XXX Parody Part 1' where he ends up fucking all of his horny young clients.