It's a clash of the porn titans as Johnny Rapid and Paddy O'Brian go head to head in '5 Years In The Making,' a hardcore gay porn movie by Men.com and released by 'Drill My Hole.'
Both of these guys have worked with Men.com for 5 years now, and all though they have been in loads of hardcore movies, this is the first time they will be in a movie together. Both men are two of the most famous gay porn stars around, and strangely enough, even though they are well known wherever they go, they are both straight. What more could we ask for than seeing two so called straight guys having sex together.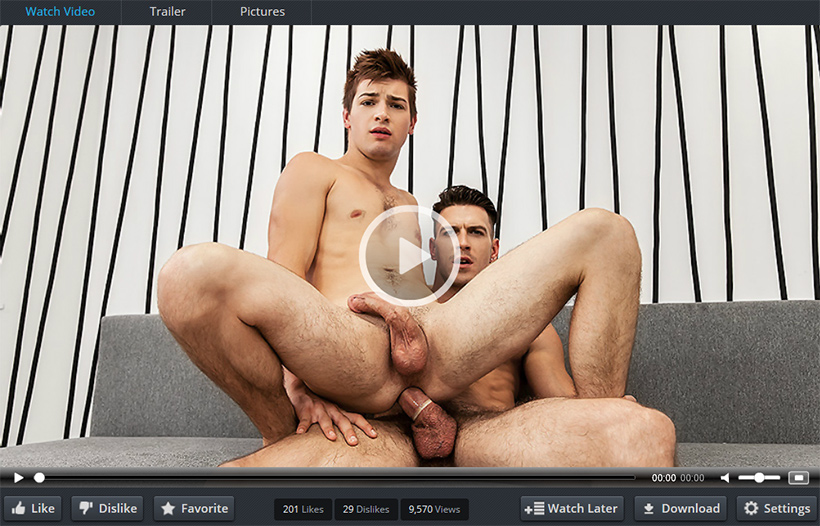 The gay porn stars
Johnny Rapid has been in porn for a few years now, but still looks an amazing young twink. He has a cute smooth face with a boyish look about him, and he has a slim body with a few tiny hairs. Even though he is versatile, he is known for being the most fucked guy around, and there is even a list on the internet which mentions the first 100 men to have fucked his tight ass. He has also become the new naughty boy of porn since Jarec Wentworth has been sent on a long holiday by the authorities. Johnny is a natural in front of the camera, and like Paddy O'Brian, puts everything he has into each movie.
Johnny has starred in an incredible 171 hardcore movies for Men.com since becoming an all exclusive star to them back in November 2011 in 'Tyler St. James and Johnny Rapid' which was seen by over 71,000 of us.
Johnny is a five foot six inch Virgo with brown hair and brown eyes. He is versatile with a seven and a half inch cut dick, and a juicy tight asshole.
Paddy O'Brian is also an all exclusive star to Men.com, and is probably the best thing to ever come out from the UK. He is extremely handsome and has got an amazing hot body with a great six pack. Paddy was bought up in the streets and knows how to look after himself and was taught how to box. He comes across as a bit of a hard man, but in reality, he is a little kitten with a great sense of humour.
He has a trendy haircut which is dark brown, and has been shaved at the sides and slicked back on top. He is five feet eight inches tall with seductive hazel eyes. He is a top, with a seven inch cock, but also loves to be fucked from time to time, especially in a gangbang. (Hey, that's a straight man for you.)
Paddy has starred in 92 hardcore movies for Men.com, and in his first movie for Men.com back in July 2012, over 47,000 horny men watched him fucking the sweet tight ass off of Isaac Jones in 'Bashed And Furious.'
5 Years In The Making – The movie
This movie, '5 Years In The Making,' begins with both Paddy O'Brian and Johnny Rapid sitting in chairs in different rooms as they get interviewed about past movies they have been in, and how much they are looking forward to having sex with each other even though they have never met, but they have seen each other on screen before.
When they get in the same room together, you can almost feel the sexual tension as Paddy tells Johnny that he has heard that Johnny doesn't like to kiss. Johnny replies that he has also heard that Paddy doesn't like to suck cock, and they both decide to come out of their comfort zones and do something new.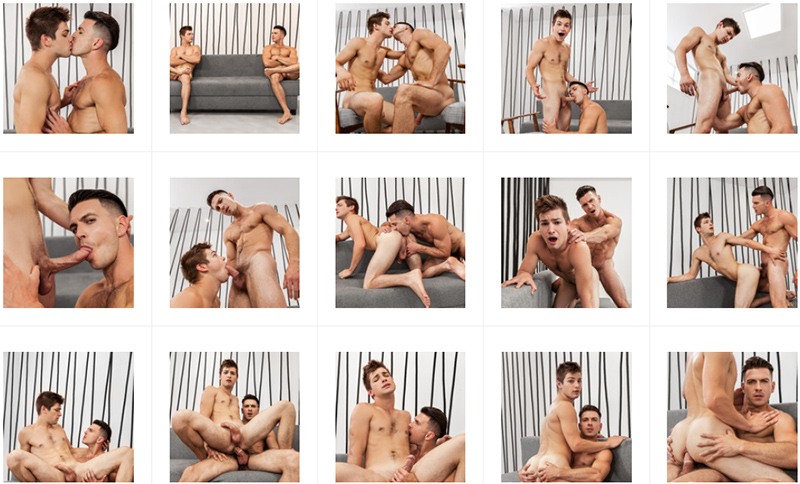 Paddy's hand slides up and down Johnny's thigh as he leans forward and they kiss each other fully on the lips. Paddy tells Johnny that he is making him hard as he unbuttons Jonny's shirt and takes it off. They stand up together still kissing which Johnny really gets stuck into. Paddy sinks down to his knees, and as he pulls Johnny's pants down, he looks up into his eyes as he takes Johnny's cock, almost lovingly between his lips and into his mouth. Paddy sucks his cock to the back of his throat, and then sucks his heavy balls one at a time. He then stands up as Johnny gets down and returns the favour by sucking Paddy's rock hard cock, and licking it all over.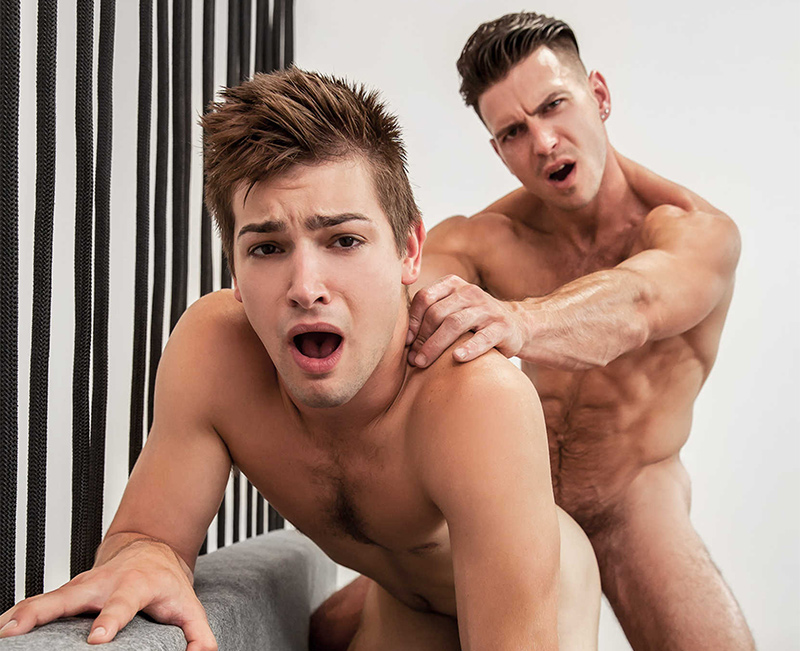 Johnny gets onto the couch with his head down and his ass sticking up in the air as an offering to Paddy. Paddy gets his tongue buried as deep as it will go into Johnny's slutty smooth asshole and licks it around until his saliva drips from Johnny's ass onto the couch below. He smacks his cock across Johnny's ass cheeks, and soon as Johnny moaning and groaning with excitement as he pushes his cock deep into his slippery wet asshole.
Johnny then rides Paddy's condom covered cock for a while, and he shoots his cum all over his slim body as Paddy O'Brian fucks him in the missionary position. Paddy pulls his cock out, and shoots his own cum all over Johnny Rapid's ravished body.
What is Drill My Hole about?
'Drill My Hole' is just one of ten other sites on the Men.com networking machine which has 2,088 hardcore movies spread out through out these sites, and 687 of them have been released by 'Drill My Hole.'
'Drill My Hole' like all the other sites shows nothing but high quality movies with great sound and with some of the best porn stars around like: Topher Di Maggio, Conner Maguire, Darius Ferdynand and Damien Crosse, and many others.


The movies are offered in four different sizes, the biggest is full HD at 1,920 x 1,080 and the smaller ones can be used on mobile phones. This means it doesn't matter where you are, you can still see your favourite porn stars in hot explosive action. 'Drill My Hole' is also updated on a regular basis and won't give you time to get bored.
All movies come with great high quality photo sets which you can download, or watch them on a slideshow.
I highly recommend 'Drill My Hole' with its great stars, high quality movies, and with so much ass fucking, ass licking and cock sucking you will need to get some lube on that dick, otherwise you will soon get very sore.