Will Braun, who is an all exclusive star to Men.com, and John Anders, star in this hot and horny gay porno that has been released by Drill My Hole and has been filmed by Men.com.
The movie
John Anders is like a werewolf, as soon as the sun starts to go down, he wants to go down. Not on someone's neck though, he wants to go down on a juicy bit of man meat. He has worked hard and needs some release. John goes out on the hunt for his prey, and when he sees Will Braun coming back from a jog, he follows him home.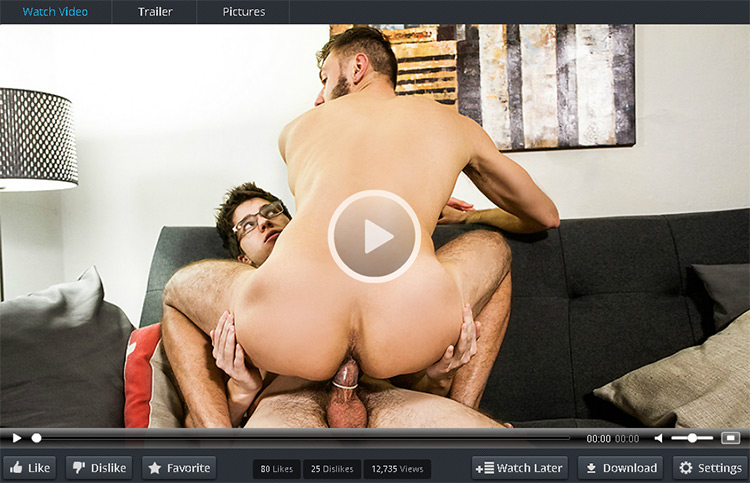 As soon as the door is open to Will's house, John is right behind him like a vulture ready to pounce. Will doesn't even bat an eye lid, he welcomes John into his house and starts attacking his mouth with his hungry lips.
They get their clothes off, and John who is desperate need of a hard cock and a hungry hole devours Will's hard cock in his mouth and sucks it to the bone. They puff and pant like dogs on heat, and John licks that cock up and down.
They sit up on the couch having a mutual wank, and Will leans over and takes John's cock into his mouth and sucks it all the way down. John lies on his back as Will kisses him. Will grinds his cock all over John's, who soon begs for more.
John gets on all fours and Will plays with his ass and slides his cock up and down between those beautiful firm butt cheeks as he teases that hole a bit more. Will Braun slips on a condom, and with John's ass up in the air, he slides it in, inch by hard inch. John moans as that cock slides in, and he feels every inch of it as it pumps away at his tight asshole.
John and Will use every bit of the couch as they go wild with lust as Will fucks Johns ass every which way but loose. John's ass is tight, and Will feels his grip getting tighter and tighter as he fucks him in various different positions. With John Anders on his back, and his asshole gripping him like a vice, Will Braun pulls out, and he pours his cum over John's hot body. (If you look closely, you can see the eye of Will's cock opening up as his cum oozes out of him.) John lies there with fresh cum over his body and chokes on his chicken until his cock throbs, and his cum ends up mixes in with Will's.
The stars
This is John Anders' second gay porn vid for Men.com, and in his first movie, he gets fucked by the beautiful ebony cock off of River Wilson in 'Get It In There.' John is slightly hairy with a slender body and a full-grown beard and moustache. He is five feet ten inches tall, has brown hair, brown eyes, and he is a bottom with a six-inch cut cock.
Will Braun has starred in eighty-seven gay porn movies for Men.com, and he is all exclusive to them. Will is the guy who has made wearing glasses look cool and trendy in gay porn vids, and he has that sexy college boy look.
Will is five feet six inches tall with dark brown hair, gorgeous blue eyes, and he is versatile with a seven-inch cut dick.
Will has had sex with so many guys since he started working at Men.com, and in so many different fantasies. He has had sex with Jordan Boss in 'Dick Out,' Myles Landon and Aston Springs in 'Spiderman: A Gay XXX Parody', and Dennis West and Diego Sans in 'The Book Part 2' and many, many others.
This adult gay porn site is a great network that produces high-quality movies with some of the best men around. There are no solos, it's just guys sucking cock, eating out butt holes, balls slapping butts, fucking, and plenty of fresh cum over young and fit bodies. So far, Men.com have 2,265 hardcore movies in their network, and they update every day. If I were you, I wouldn't delay, and I would join up today to watch hot and horny gay porn movies with twosomes, threesomes, foursomes, and even some amazing cum drenched orgies.