Alex Mecum and Coby Keller are two hairy hunks with big cocks in a great hardcore movie made by men.com, for 'Gods Of Men.'
Alex Mecum is a six foot versatile young man packed with muscle and has starred in five hot and horny movies for gaypornstarstube.xxx and is also in the competition 'the Next Men exclusive' parts 3 and 4. Alex has short brown hair, shinning blue eyes and has a thick eight and a half inch cut cock.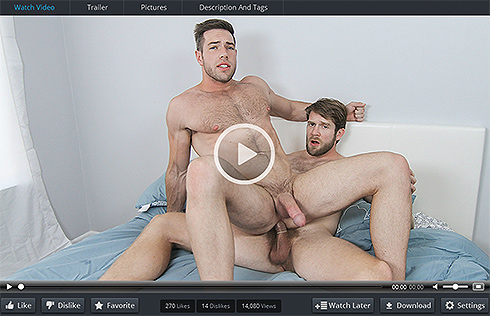 Colby Keller is a giant at six feet two inches tall, with a great body and has starred in twenty nine hardcore movies for Men.com and his next movie is a series called 'The Cult.' He is versatile and has an eight inch cut cock which he loves to get licked. Colby has brown hair, a matching beard, and has dark hazel eyes.
This movie doesn't pull any punches and gets stuck straight into the action with Alex Mecum and Colby Keller wearing tiny pants and on the bed.
As they lay side by side they kiss fervently and let their hands wander all over their hot rampant bodies and their rock hard cocks and balls. Alex lay's on top of Colby's body and Colby slips his rough hands under Alex's tiny underpants and feels his muscular ass all over as they carry on kissing.


Colby turns Alex back on his back and sucks his dick through his cotton underpants. Alex whimpers with lust as he feels the warm air and wet tongue of Colby's mouth as he sucks his cock up and down. Colby grabs hold of Alex's underpants and pulls them down his legs releasing Alex's eight and a half inch cock from the rough material.
Alex's body tingles and shudders as Colby spits on his hand and rubs his fingers up and down Alex's tight asshole, then he inserts a finger half way, and finger fucks him as he sucks on his cock at the same time.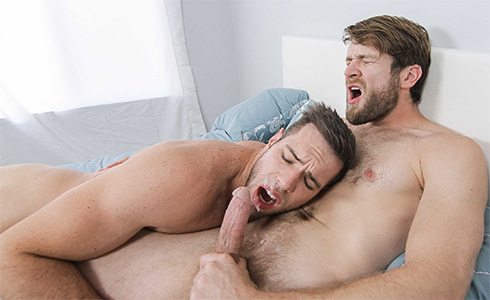 Alex strokes on Colby's cock for a while as he get finger fucked and then he gets on his front, in front of a kneeling Colby with his tight ass on show and sucks on Colby's eight inch dick.
Colby smacks Alex's ass a few times which makes Alex moan out more urgently with excitement. Alex sucks on Colby's stiff dick and Colby face fucks him back.



Alex is made to get on his hands and knees as Colby gets behind him and spreads his hard butt cheeks wide apart, and with his ass hole directly in full view, Colby licks around his rim, and then buries his tongue in as deeply as it will go, licking his asshole the whole time. Alex stays in that position as Colby pushes his cock right into his slippery wet asshole with no problem. They have gone past the point of no return as their full balls churn up their scolding hot cum and threaten to boil over at any minute as Colby rides Alex's asshole. Sweat cascades down their bodies as they fuck doggy style, then spoon fuck, and then they fuck in the missionary position and their full balls tighten up and their bodies go into spasms as both Alex Mecum and Colby Keller shoot their sticky man cum over Alex's panting body.
Phew! To see more of these men, and men like them, take a look at gaypornstarstube.xxx where there is just about something for everyone.