Jimmy Fanz and Aspen star in this great hardcore episode filmed by gaypornstarstube.xxx for 'Str8 To Gay.'
The movie starts off with Exclusive star to gaypornstarstube.xxx, Johnny Rapid playing 'The Recruiter.' He is sat on the bed with Jimmy Fanz and Jimmy is asking him how to get a certain straight man into bed. People pay Jimmy for his good advice on how to get another man into bed, and he is good at what he does. He has already prompted Jimmy a few times and in the end Johnny just tells him to tell the other man to get his dick out and see what happens more or less as soon as he enters the room. All of a sudden there is a knock on the door, his man has turned up early so Johnny has to hide. Jimmy opens a walk-in wardrobe and puts Johnny into it where he will have to stay for as long as it takes.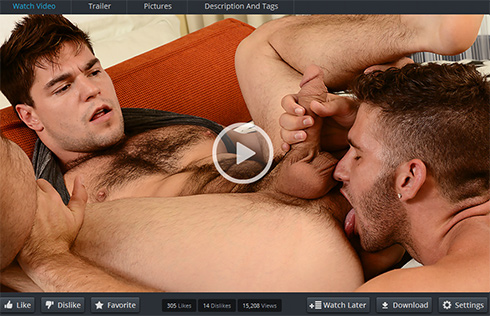 Jimmy opens the door and a good looking and hunky Aspen walks in with a big sexy smile on his face. Jimmy sits down on a chair and Aspen sits on the corner of the bed with his legs slightly spread and leans back letting his hands behind him take his weight. He looks so hot that Jimmy can hardly contain himself.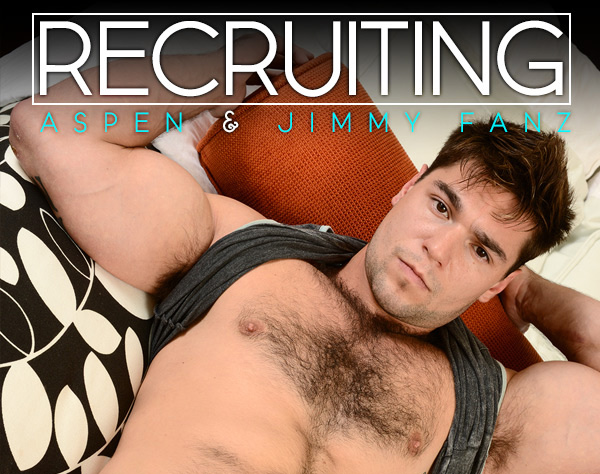 'Look, I want to suck your dick,' Jimmy splurts out to him – which makes Aspen laugh; he thought he had come for an interview but finds out that all Jimmy has wanted this whole time was his cock. He laughs again and tells Jimmy that he is a straight stripper and doesn't really do anything else. But he says to Jimmy when he has spoken some more that he will at least show him his cock, which is eight and a half inches of pure thick, tasty meat. Once he has his cock out Jimmy asks him one more time if he can suck his cock, and this time Aspen says why not, he believes in trying everything three times.



Aspen leans back on the bed again with his powerful thighs spread open and his ball bag hanging down, and his cock sticking rite up. Jimmy gets on his knees and sucks his cock straight away before Aspen can change his mind. Aspen watches what he is doing and can't believe how good his cock sucking technique really is. Aspen lies back breathing more deeply and quicker than before, he quietly groans with excitement as whilst Jimmy sucks on his dick, his hand goes up his hairy body and gently squeezes his small dark nipple, and then back down again to massage his heavy ball sack. Aspen groans slightly louder as Jimmy then takes each one of his balls into his mouth and sucks them individually. Jimmy returns to sucking and stroking Aspen's cock and gets him more and more excited by the second. Jimmy pushes Aspen's legs up ever so slightly and spits onto his asshole and licks his asshole. Making sure its dripping wet, Jimmy begins to gently finger fuck him.



If Aspen thought he had cried out loud before, it's nothing compared to the sound he makes when Jimmy he gets his very first dick up his ass as Jimmy slides it slowly into him as he Aspen lies on his back. Aspen pants like a dog and as the pain goes away, all he feels is pure pleasure like he has never known before. Jimmy fucks him for a while in long slow thrusts letting aspen get used to his dick deep inside of him. He gets Aspen onto his hands and knees with his head in the pillow, and his ass high up in the air and fucks him harder and harder doggy style where Aspen growls and howls with each thrust of Jimmy's hips. They get back into the missionary position and with Aspen still crying out loud, he jerks on his pulsating dick and cums over his hairy body. Jimmy Fanz pulls his dick out and sprays his creamy white spunk over him.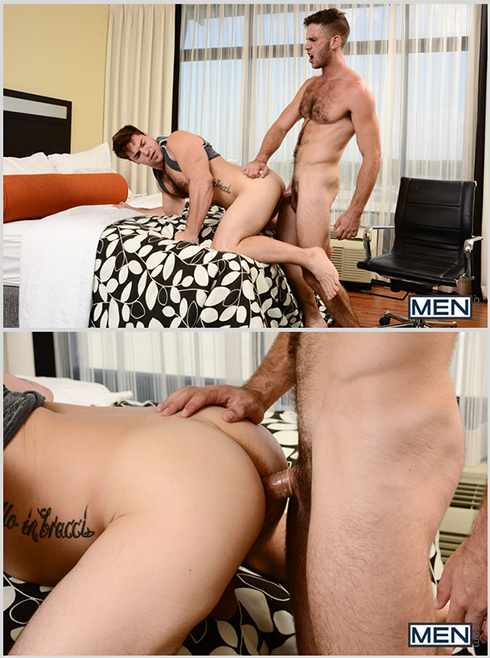 After Aspen leaves the apartment Jimmy rushes to the cupboard and releases Johnny from his hiding place and tells him that he will use him again the next time he wants to fuck a straight guy.
Aspen is a hunk of a man with a hairy chest and a lovely eight and a half inch cut cock with big balls. He has black hair, brown eyes and is five feet eight inches tall, and has only been with gaypornstarstube.xxx since April 2015 where he starred with Will Braun in 'Strap on'
Jimmy Fanz has been with gaypornstarstube.xxx since May 2012 and has been in about thirty hardcore movies since then and is very popular on Twitter. Jimmy is a versatile bottom, and has a six inch cut dick. Jimmy has short brown hair, Brown eyes, and is five foot eleven inches tall.