This hot bareback movie starring Jack Harrer and new boy to Bel Ami Online, Henrik Bjorn was released on 05/22/2018 and you can find it at Bel Ami Online, along with thousands more hardcore porn starring young, hung good-looking guys.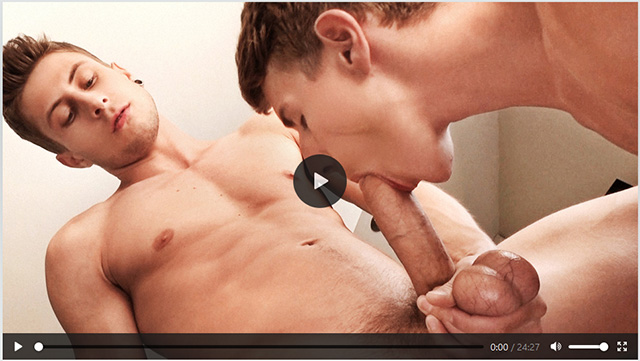 Jack Harrer – Hot Belami Model
Hi, my name is Jack Harrer and, well first off, you should know about me by now, but if you don't, let me tell you a bit about myself. Then, I will tell you what I know about the new boy to BelAmi Online,
Henrik Bjorn – The new bareback toy in town
I am five feet eight inches tall, pretty cute, so I have been told, and I have a smooth, toned body. I have sexy blue eyes, and I am a versatile top with an eight and a half thick juicy uncut cock.
I love the fast life and am always on the go. I love to party but most of all, I love sex. I love to hear a guy grunt and groan with ecstasy as he feels my huge fat boner sliding into his ass, and sometimes, I like them to fuck me too. I'm called as a bit of a rebel, but after being in the porn business since 2010, I know what I am doing, so I can seem to get away with a bit more than some other pornstars.
Henrik Bjorn.
Henrik has the body of the college soccer captain. He is good looking, clean cut and has some amazing abs. He is Czech, was born in 1995 and he is a power bottom.
He is a five feet nine-inch hunk with light brown hair and piercing blue eyes that just make your cock go instantly hard. He has a seven-inch uncut cock, and he is in his first movie with BelAmi, so enjoy me breaking him in, and get the Kleenex out because you are as sure as hell are going to need them.
Free bareback gay porn video
I am in trouble with my boss; he doesn't like me turning up for work in scruffy clothes with an earring in my ear. But, hell, I am sure everyone is going to enjoy the hardcore sex anyway, so let's leave it there, as I can't wait to find the new kid on the block, Henrik Bjorn.



I walk into the bedroom, his back is to me, and I see his hand jerking up and down. I smile as he looks around, and I feel my cock throb just at the site of this athletic guy with his hard dick in his hands as he stands up to meet me.



I lie down on the couch on my front as my hand reaches out and I hold his hard dick in the palm of my hand and massage his big heavy balls. I lick his cockhead and enjoying the taste, I take his cock in my mouth and begin to suck.



We change positions, and I hold on to my balls as I feed my cock into his open mouth. He sucks my cock, and tries to take as much into his mouth as he can. I want him to carry on sucking my dick, but I also want to try his ass.



I get him on his hands and knees, and as his butt hole opens up, I circle my finger around his rim and inch my finger in, but just a little. I am on heat, and his ass is ready to ride. I sit back, and he spreads his ass cheeks wide open as he goes to sit on my cock, and I inch my hard-on deep and raw into him.



After I've fucked his ass for a while, he jumps up, and I run after him. I catch him in the corridor, and we see guys making another porn movie downstairs. With Henrik Bjorn watching them fucking, I ram my cock up his ass and fuck him like a wild stallion.



With Henrik on all fours, I pull my pulsating cock out of him and shoot my sizzling hot cum all over his fucked asshole, and then slide my cock back into him. He is ready to cum, so, I get down on my knees, and I jerk on his cock until his cum splashes over my face and in my mouth.



Henrik Bjorn's ass was unbelievably tight, and I bet he couldn't walk for ages after. Just press pause when I cum over his fucked asshole, you see my jizz dripping down his balls and onto the ground below. To see more movies like this, I would suggest you become a member of Bel Ami Online, sit back, and let us do the hard work while you have fun either on your own or with a friend or five.