'Drill My hole' have got a fantastic threesome episode to show off starring two exclusive stars from Men.com, Colby Jansen and Johnny Rapid alongside the hunky hairy hunk, Billy Santoro.
Johnny Rapid wakes up next to his girlfriend (don't worry, it's only acting) horrified as her dad, played by Billy Santoro, bangs on her door to tell her its time for her to go to school. Johnny is scared as she tries to get him out of the house unseen by her dad. As she goes to see where her dad is, Johnny hides behind the bedroom door. Unknown to him, Billy has just come out of the shower naked, and sees Johnny standing there.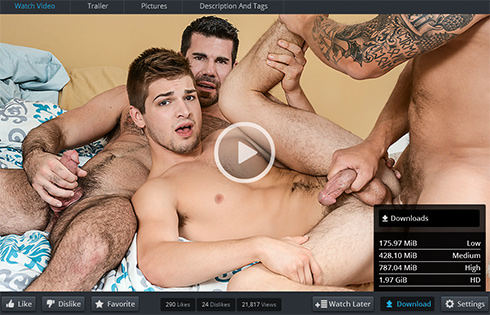 Billy puts his hands on Johnny's naked chest and starts speaking to him. Johnny is very nervous as Billy gets on his knees and sucks on Johnny's seven and a half inch dick. All of a sudden, Billy has a different idea, and he moves from the bedroom down the stairs holding on to Johnny's hard dick at the same time so that he can't get away. Billy likes a bit of danger and as he stops Johnny at the bottom of the stairs, he kneels down and sucks on Johnny's cock knowing that Colby Jansen is in the next room. As they leave the house to go to school, Colby and Johnny's girlfriend almost catch Johnny and Billy naked as they run back to the bedroom.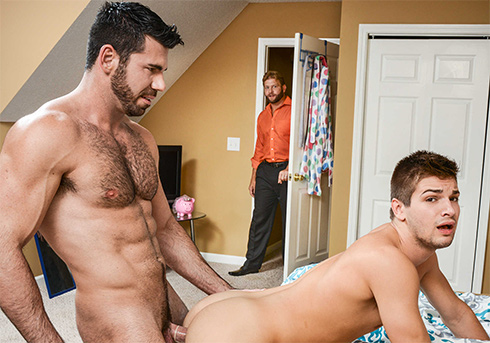 Back on the bed Johnny lies on his front and sucks on Billy's raging hardon. Billy then tells Johnny to get up and bend over, he talks to much. With his tight ass on view Billy slams his cock right up deep into Johnny's ass which makes his cry out. Billy fucks him fast and both men grunt and groan as they fuck doggy style.
Colby Jansen comes into the room and catches then both fucking. Billy tells him what has happened and Colby agrees to punishing Johnny ass with his stiff dick. He rolls on a condom as Billy goes up to Johnny's face and gets him to suck his cock as Colby pushes his cock into Johnny's opened up asshole. Johnny then sits on Colby's cock whilst Billy sucks on Johnny's cock.



With a loud howl Johnny Rapid's cock throbs and then spills his load over his body whilst he is still getting fucked in the missionary position. He gets onto his knees and both Billy Santoro and Colby Jansen spill their sizzling hot jizz over Johnny's heaving chest.



Colby Jansen is a bearded hairy top guy full of muscle with a great rugby build. He has gentle blue eyes, is six feet one inch tall and has a seven inch cut cock. He is an exclusive star to the site and has been in eighty seven movies for them.
Johnny Rapid is also an exclusive star to Men.com and has been in an amazing 142 movies with them. He is clean cut with a lean young body. He is versatile and has a seven and a half inch cut dick. He has brown hair, brown eyes and is five feet six inches tall. Check out Johnny Rapid´s Twitter account here.
Billy Santoro is a six foot versatile hairy hunk of a man with lots of muscle. He has a six and a half inch cut dick, jet black hair and dark brown eyes. Billy has starred in twenty six hardcore movies for Men.com and has a good following on Twitter as do all these hunky horny men.