Super Gay Hero brings us 'Captain America: A Gay XXX Parody Part 2' a hardcore interracial movie by malegalaxy.com starring Alex Mecum and Black Panther.
Black Panther is a must for those into latex. He is covered from head to toe in his super hero uniform which shows of his great physique. It moulds to his body like a second skin and shows off his tight ass. Who is the Black panther? It's a mystery to us all, but let's just hope that Captain America can get to the bottom of it. This is the first movie that he has starred in, and I doubt it will be his last and that one will one day find out who our masked hero really is. He is a six foot man with a shaved head and brown eyes are all we are told for now. He is versatile with a juicy nine inch long cut dick and a tight asshole.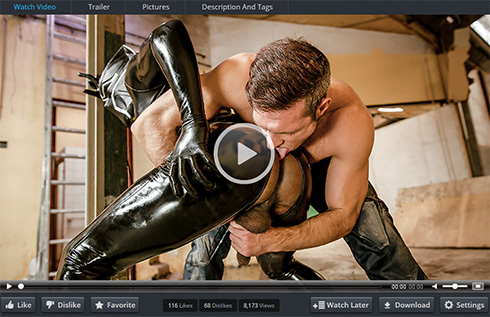 The gay guys
Alex Mecum (Captain America) is an all exclusive star for Men and is a six-foot hunky man with a hairy chest and beautiful blue eyes. He has short brown hair, weighs 195 pounds and he is versatile with an eight and a half inch cut cock and an ass like concrete.
Alex has starred in 31 hardcore movies for Men. (Super Gay Hero is just one great site out of the ten that are run by the networking team of Men.) Alex started in September 2015 with Men and his first movie was 'Stepbrothers part 1' where Colton Grey (who is the first episode of Tarzan: A Gay XXX Parody) sits on Alex's cock and rides him until they spurt their juicy cum all over the place.
The great gay porn site
Super Gay Hero is a fantastic new site with 39 hardcore movies to show us all which are full of all kinds of super heroes banging each other's tight assholes, or getting fucked themselves. Because this site belongs to the Men network we are guaranteed nothing but high quality movies with great sound and are offered in MP4 format and are DRM free. There are three sizes of downloadable full scenes, and the newer movies are offered at Full HD sized at 1,920 x 1,080. All movies also come with great photo sets, and most are sized at 1,663 x 2,495 and there are approximately 20-100 photos in each set. These photos can be downloaded into a zip file and can be watched individually or in a slideshow.
Now onto the movie Captain America: A Gay XXX Parody part 2.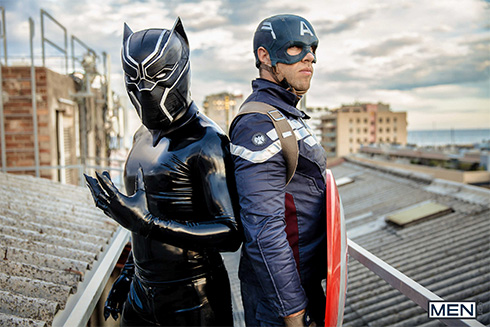 There is an urgent knock on (Alex Mecum's) Captain America's door. He is told that there is trouble as the Black Panther is close by. Alex goes running dressed to kill in Captain America uniform and trusty shield. He sees Black Panther up on the roof of a building dressed up in his sexy latex outfit and helmet, and he goes after him.
They have a great fight which actually seems very real and just like in the original movie. The Black Panther is beginning to lose so goes running into an old building where Alex catches up with him. They are tired by the fighting and Alex says
'I thought you were one of the good guys.' The Black Panther tells him that he is, and that is when Alex looks closer at The Black Panthers tight uniform. He takes his mask off so that the Black Panther can see his good looking face and he sees the huge bulge inside his uniform.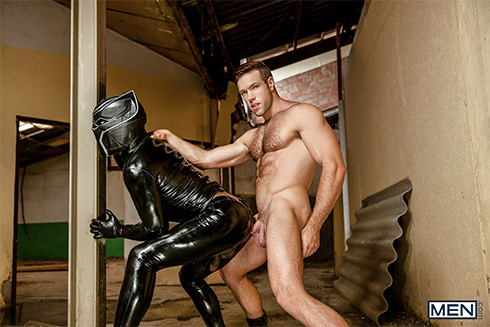 This is also where Alex shows off his kinky side. They hold on to each other but don't kiss as the Black Panther keeps his helmet on. Alex kisses and licks his latex uniform all over, and even sucks and licks on his latex gloves like he is sucking on a delicious hard cock.
The Black Panther has kept quiet but soon begins to groan with pleasure as Alex releases his nine inch black cock and large balls from the confines of his uniform and begins to suck his dick almost all the way to his pubes. The Black Panther stokes on his meaty cock and smacks Alex on his lips with his bulbous cock head. Alex sucks his cock some more and then stands up.
The Black Panther runs his hands over Alex's chiselled hairy chest, and Alex turns The Black Panther around and bends him over slightly. He finds the zip on the back of his pants and pulls it down revealing his tight ass which Alex licks eagerly straight away.
Alex spits on The Black Panthers asshole, and then stands up and gets behind him. Alex sighs with sexual pleasure as he drives his eight and a half inch meaty cock deep into The Black Panthers tight asshole and fucks him standing up. The camera goes underneath and we get a great shot of Alex's cock drilling that asshole as hard as he can.
The Black Panther then sits down and Alex Mecum sits on his cock and rides him like there is no tomorrow until he shoots thick loads of hot cum on to the floor below him which threatens to cover the camera. The Black Panther then stands up and shoots his load over Alex Mecum's chest.
Way to go, Captain America!