If you ever dream away while you're working, or maybe fantasize about having sex with one of your co-workers, and you want to see some action, then check out movies shown by 'The Gay Office.' At this site, made by Men.com, you can have it all. Where better to go than a company who specializes in what you really want: Hot sexy men in suits and ties are ready waiting for you to watch them while they bonk away in office time. This is a great hardcore series with everything you could wish for, and maybe even some things you haven't even thought about yet. This first episode stars Dakota Vice and Denis Vega.


Dakota Vice is good looking bearded man with hair covering his lean body. He is a versatile bottom and has a seven inch cut dick. He has brown hair, sparkling green eyes and is five foot nine inches tall weighing 175 pounds. This is Dakota's second flick for Men.com; his first one is 'Hard Knox part 3', where he gets his hairy ass pounded hard by Paddy O'Brian's hard cock.
Denis Vega has been in nine movies with Men.com and his most popular flick men have watched so far is 'The Business Of Sex Part 1', which has been viewed over 22,000 times; it also stars Dato Foland. Denis has a hard muscular build with lots of hair from top to toe. He is six foot tall with brown hair and brown eyes. He is a versatile man with a seven inch cut cock and a tight and tasty asshole.
Both Dakota Vice and Denis Vega are working on their computers opposite each other. The air is thick with tension and they keep looking at each other suspiciously. Dakota gets up and walks over to Denis, who is still looking at him.
'Rumour has it, you're the mole,' Dakota says to him. 'I guess there's a few things we can try out,' he says as he grabs Denis by his tie and pulls him up.
He starts to kiss his soft, moist lips.
Dakota gets down on his knees, undoes Denis's pants, pulls out his hard dick and takes it in his mouth. Denis's breathing becomes heavy as Dakota takes the whole length of his cock to the back of his throat. He teases him by licking his cock all around the outside, and then moves on to his heavy ball sack. Denis starts to unbutton his shirt as Dakota goes back to deep throating his aching erection.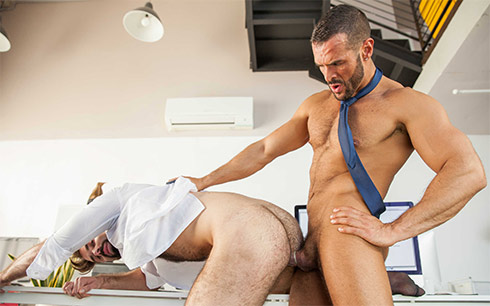 He stands up and they carry on kissing as Denis fumbles around undoing Dakota's pants. Denis goes down and sucks on Dakota's cock for a little while and then stands up again, bending over his desk. Dakota gets down behind him and spreads his ass cheeks wide apart showing us his inviting pink entrance. Dakota licks around Denis's sensitive ring and pierces his tight crack with his probing tongue. Denis is naked except for his tie still around his neck. Dakota smacks his ass gently and continues playing with his slippery hole.
They change positions, and this time Denis licks and finger-fucks Dakota's hot hairy crack, making Dakota growl quietly with excitement. Dakota stays bending over as Denis stands up and slips his cock all the way in Dakota's tight wet ass. The two men moan and groan in unison as Denis's cock drills him as deep as he can go. Denis sits down on the office chair and Dakota climbs up, sits on his cock, and rides him hard and fast as they look into each other's lustful eyes.
Dakota stands back up again as Denis Vega continues slamming his throbbing dick in and out of him, until he can't hold back. He pulls his cock out of his ravished asshole and cums in thick white wads of hot man-spunk all over his hairy butt.
Dakota Vice turns around and sticks his cock into Denis's waiting mouth eventually dribbling his spunk over Denis's tie and hairy chest.
Both men quickly dress and go back to their desks tapping on their computers. Dakota types, 'He's not the mole.' The phone rings and a scrambled voice tells him, 'Well done.'
We're all looking forward to seeing more men in suits fucking in the office in the next exciting episode of 'Find TheThe Mole'