After the horny Jay Rising picked up the very cute stranger Max Bradley in 'Desperate Teens part 1', Drill My Hole put him back on the road to see who he could pull next. Armed with his own camera for those great POV moments, Jay Rising drives around looking for some twinks who might be desperately hoping for a lift.
It's hard to say no to Jay Rising, as Max Bradley found out before in part one. He is good with his chatter and even better with his ten inch cut dick. He has lovely blue eyes and if you want to make him happy, all you have to do is play with his balls and suck on his cock. If you do that for him, he will do anything, and everything, to you.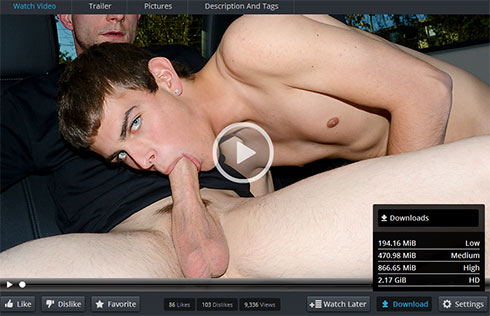 In this hardcore flick it doesn't take Jay long at all before he sees Cayden Wyatt standing on a street corner in the middle of nowhere. He slows the car down and waits for the young twink to come to the open window. It is obvious why Jay has stopped. He must think he's in twink heaven as Cayden Wyatt leans over into the car and starts talking to him.
Cayden's skin is smooth and milky white. He has a young and innocent look on his face. He has brown hair, and startling blue eyes that make you want to melt into his arms. He is a versatile bottom with a cut seven inch dick and, though he doesn't know it as yet, his asshole is going to end up being stretched to the very limit pretty darn soon.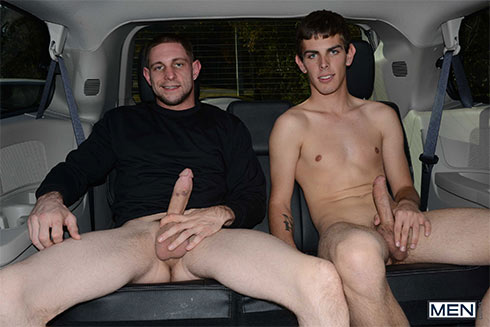 He looks at Jay Rising and tells him that he is desperate for a lift. He is miles from home, and his girlfriend has just dumped him. Jay persuades him to get in the car by telling him he can help him out. (I don't know about you, but I've never been this lucky in picking up men in my car.) Jay is quite open and tells him that as he is helping him out that Cayden should help him out in return by sucking his cock. Cayden (acting very well here) tells him is straight and won't do that. He gets out the car and starts walking. Jay knows better, he knows how desperate Cayden is. He offers him money, and a place to stay as long as he sucks his cock. He has got him hook line and sinker. Cayden agrees, gets in the car and goes down on him without hesitation. (See, I knew he wasn't straight.)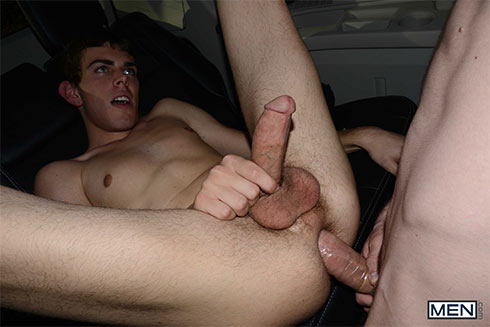 I don't know how he does it, but Jay Rising keeps a firm hold of the camera as Cayden carries on sucking his cock up and down as Jay films him without any camera shake. It's so easy to go into fantasy mode here and think it's your own cock and balls that this young twink in sucking on. Jay persuades Cayden to get in the back and strip his clothes off. After Cayden sucks his cock for a bit longer, Jay gets him to get on all fours. He spits in his asshole for some lube, and shoves all of his ten inches all the way into Cayden's tight crack.
Jay fucks him doggy style at first with Cayden's head almost out of the car window. He feels the muscles in his ass clamp down like a vice around his cock. Jay gets him to lie with his back on the back seat, and fucks him faster and faster. Cayden Wyatt enjoys his first ass fuck so much he shoots cum all over his smooth young body. Jay Rising quickly follows him by firing his sticky jizz all over him, mixing it all up together.
There is nothing wrong with a great bit of twink ass fucking, and am hoping Men.com make many more like this in their 'Desperate Teen' series.