'Gods Of Men' always gives you what you want when you want it, and this movie is no exception. Imagine it's your birthday and you have met the man of your dreams. After a bit of flirting, he blindfolds you and takes you to his house. He undoes your blindfold and you see him totally naked. He looks into your eyes and says, 'Do what you want.' Now imagine the man of your dreams is the good looking tattooed stud Colton Grey.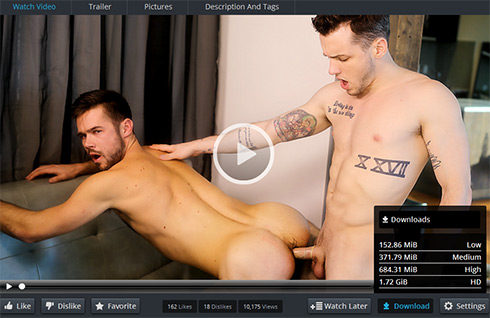 Colton Grey is into running and Yoga so you can just imagine what positions this fit young man can get into. This is only his second movie with Men.com but he had no complaints from Phenix Saint when he screwed his hot asshole in 'Best Sex of My Life Part 3' which has had over 11,000 views so far, and only came out a month ago. He is only five foot six inches, but with an eight and a half inch cut dick he is an impressive and horny sight. He is a versatile bottom which means he is happy no matter what. He has brown hair and gorgeous sea blue eyes too.
In this hardcore flick he brings a blindfolded good looking guy into a room. The good looking guy is Mike De Marko who as you know, is no stranger to be in front of the camera. He is a versatile bottom which means he just loves cock and doesn't mind with whom or where. He loved having his tight horny ass fucked hard by Tyler Hunt in 'The office Slut' and 'Backfire' with Colby Jansen, an exclusive porn actor for Men.com. Mike has a lovely seven inch cut dick and a firm hairy chest. He has brown hair and smiling brown eyes. Not someone you would kick out of bed at all.
In this scene Mike De Marko gets the already naked Colton Grey to spread his legs and bend over a glass-topped coffee table. Mike strokes his hands up and down the back of Colton's firm thighs and butt cheeks as his tongue delves in and out of Colton's fuckable asshole. He gets it so wet his twitching hole drips with his saliva. Mike then tells Colton to flip over so that he can suck his cock.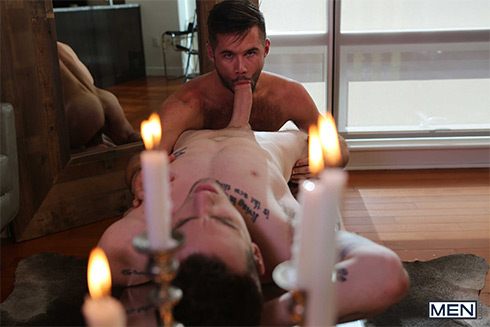 Mike lovingly licks Colton's eight and a half inch cock all over from the bristles of his short pubes to the very tip, and back down again finding it hard to get his whole hand wrapped around. He opens his mouth and, bit by bit, and inch by inch, he gets more and more cock into his mouth as he bobs up and down. This is a big cock. Colton sits up and returns the favour by giving Mike the best blow job he's had in a long time.
The heat goes up in the room when Mike De Marko bends over on his knees and this time Colton Grey spits onto his asshole and shoves his tongue in as deep as he can go. He takes a good hard grip of Mike's muscled ass cheek's and rims that ass like there is no tomorrow. This is where we get a great close up: We see Mike's ass hole swimming in saliva as Colton eases a hard finger into his hairy pink crack.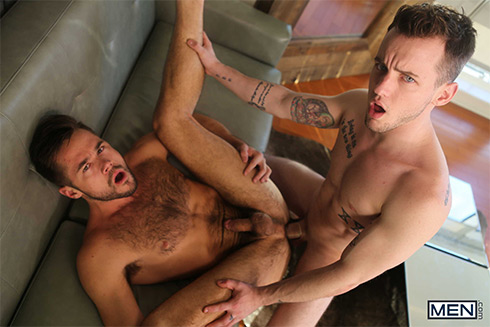 Mike De Marko Stays bent over on the couch as Colton stands up behind him and sinks his big dick right into Mike's much needed fuck hole, making Mike groan with excitement. Colton Grey reaches forward and takes a strong grip of Mike's shoulders and straddles his ass hard and fast. Mike then turns over and gets on his back as Colton fucks him even faster. Mike's body tenses and he streams his hot, musky spunk all over his hairy chest and stomach. On seeing this, Colton sends his own cum flying in the air and joining Mike's cum splattered over his ravished sexy body.
(A Gods Of Men membership comes with full access to the Men.com network where you can see all the movies mentioned above.)