After Conner Maguire breaks in to Jack Radley's house wearing a mask, and Jack makes him have sex with him, Conner is invited back the following day to steal anything he wants as the sex was so good. Thanks to Men.com, 'Drill My Hole' brings you the next hardcore episode in this cock pounding, ass splitting series, this episode also stars Dennis West, a mature man who is always horny and ready for a hard cock.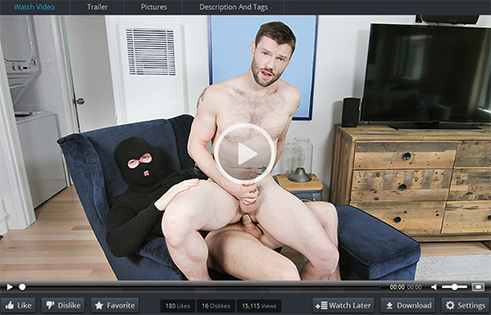 Conner Maguire does break into Jack's house the very next day. His clothes are all black, and he wears a black mask. As he is looking around Jack's apartment, Conner hears the front door opening, and hides beside the couch as Dennis West comes into the room. He is playing Jack's horny uncle. Dennis goes to phone the police but Conner explains to him about his nephew's fantasy and that he had sex with him the day before. Dennis, always quick for a good excuse to have sex himself, tells Conner to put his mask back on.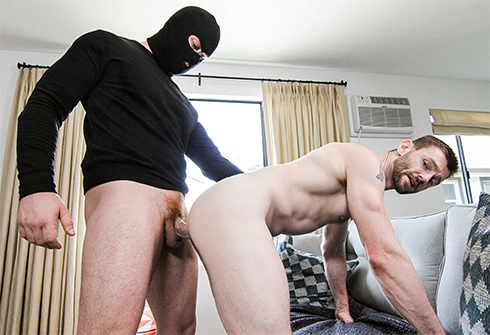 Dennis sinks down to his knees and before Conner realizes what is going on, Dennis has taken his eight and a half thick dick out of his pants and he is deep throating him and squeezing Conner's firm butt cheeks at the same time. Dennis is going right down on him and getting his cock so much down his throat that his nose grazes against Conner's ginger pubes making Conner groan with pleasure.
Dennis gets up and gets on to the bed as he gets Conner to suck on his eight and a half inch dick and shaved ball sack. Dennis cries out with excitement when Conner lifts his legs up and takes a long lick of his sensitive asshole. The camera zooms in here and we get a fantastic view of Conner's tongue as he licks right around Dennis mature smooth hole.
Dennis howls out loud as Conner then shoves his cock straight up into his slippery wet hole and fucks him hard in the missionary position. He feels as if he is on the border of ejaculating every time Conner's cock bangs against his prostate. They change positions and Conner leaves a red hand print on Dennis's ass cheek as he slaps his butt as he drills is hole as they stand up with Dennis bent over.



With a last cry of excitement, Dennis West closes his eyes, and hot juicy cum flies out of his throbbing cock as he rides on top of Conner's cock which is still deep inside him. Conner Maguire pulls his cock out and lets his spunk spill out onto Dennis's naked thigh.
It's a great hot fuck but Dennis still doesn't let Conner take any of his nephew's belongings from his house.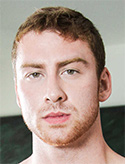 Conner Maguire is a red headed hunk with a muscular hairy body and a thick eight and a half inch uncut dick. He is a six foot two versatile young man with amazing green eyes. Conner has starred in thirty two hardcore flicks for this site and has a huge following on Twitter.
Dennis West has been in eight hardcore movies with Men.com and his most watched flick so far is 'The In-Laws Part 2' where he fucks the ass of a handsome Aspen with his eight and a half inch cut dick. Dennis has a hairy lean body and a great beard. He is a versatile mature man who has brown hair, blue eyes and is five feet ten inches tall.