Showers feature a great deal in gay porn movies. Why is that? I've got a few theories. One is that we like our porn hunks to be clean and smelling fresh when we meet them, and there are those among us who would worry if a guy came in all sweaty and hot and mucky from work and got his ass rimmed. And there are, of course, some of us who would absolutely love to see that too. Another theory I have is that when you've got someone like Dato Foland, as we have in this scene, and you get him all wet, his smooth chest, his muscles and his hairy cock look even better when glistening with water. And a third theory I have concerns guys who get into showers with clothes on, as does Theo Ford in this scene. He looks great in and out of a t-shirt, but when that t-shirt is wet, it somehow looks even better.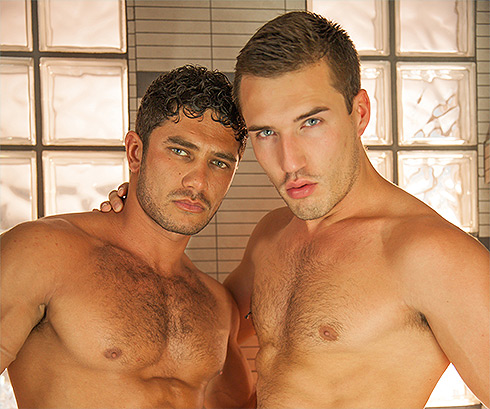 So you've probably gathered that these two guys are in the shower. The scene starts with Dato Foland putting down his mobile and then getting in; great atmospheric music and nice filming, water flowing, good lighting and sound and the sight of Dato getting wet, hiding his cock from us, but showing us his butt and his strong back. And then along comes Theo Ford and he, rather naughtily, checks his lover's phone and sees that Dato was planning a surprise for him, of some sort, and thus we have the title of the scene, 'Non surprise' which is a bit of a throw-away title and doesn't seem to have much bearing on the plot. And the plot is: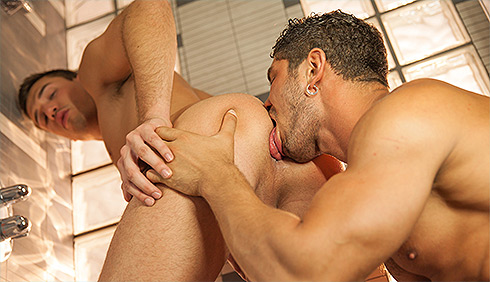 Two sexy hunks, Dato Foland and Theo Ford, making out in the shower. Kissing, working each other's cock until they get hard, fucking each other's fists, more kissing, the trickle of water, Theo in his t-shirt still, sucking Dato's dick and then turning him around and licking his ass, more kissing, Dato going down on Theo, rimming his smooth, tight butt – us wondering who is going to get fucked by who as that's definitely where we are heading. And we find out before too long. There's an eight minute foreplay build up in this scene and then Dato Foland is fucking Theo Ford hard and fast right there in the shower, and Theo still has that t-shirt on, white and wet and somehow adding to the horniness of this scene.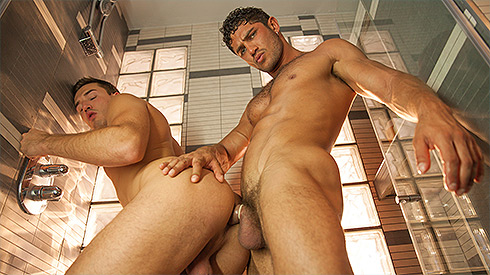 Hard buck fucks bubble butt ass, both wet and slapping and we're in there real close up, it's like being in the shower with them. Then Dato pulls out, kisses that butt, fingers it some more and teases his lover before sliding his hard seven and a half inch cock back in for some more deep anal action. Again he pulls out and plays with the boy's asshole, there's more kissing, and then after a good long while, they move out of the shower. But the fuck-fest is not over yet. Now we have more room we can get to see more of Theo Ford and his own hot cock. His profile shows it at 7.8 inches, which sounds incredibly specific to me, but it's a nice one and we get flashes of it during the second half of the fucking session. And we get to see more of it towards the end of this hot video when he's sitting up and down on Dato Foland's hard dick and gripping his own, working himself up to cum into Dato's mouth.
Dato then sucks the cum out of Theo Ford and swallows all that's left from his cock before shooting his own load into the bath. At the end of 'Non Surprise' it's no surprise that both guys will need to go back and have another shower.