Thanks to Men.com, 'Drill My Hole' show us what happens when dirty Dennis West prowls the streets looking for a nice young man to bend over so he can whack his dick right up his tight tender ass. He doesn't have long to wait when he sees a pimp at the side of the road shouting out his business for all to hear. Dennis stops and asks him if he has a jock for sale. The pimp tells him he has a nice thin young man who is up for anything, so Dennis gives him the money and takes the young man, Dylan Knight, into a rented apartment close by.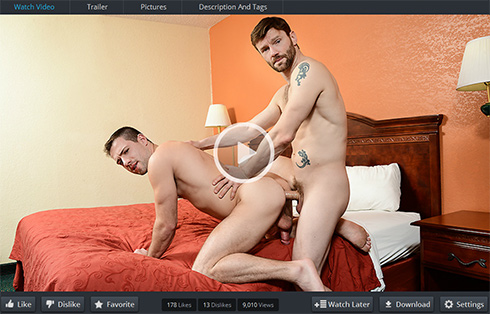 As soon as they are in the room, Dennis pulls Dylan close to him and kisses him on his sweet soft lips. Dennis is more than happy with the 300 dollars he has paid for Dylan as he takes his shirt off and looks his naked smooth body up and down. Dennis drops his pants and Dylan kneels down in front of him and takes his eight and a half inch circumcised cock into his mouth. Dennis growls out straight away with excited satisfaction as Dylan manages to deep throat his cock without any gagging. Dennis lets out a slightly louder groan as Dylan takes a gentle hold of his hanging ball sack at the same time as he gives him an amazing blow job that Dennis isn't going to forget in such a hurry.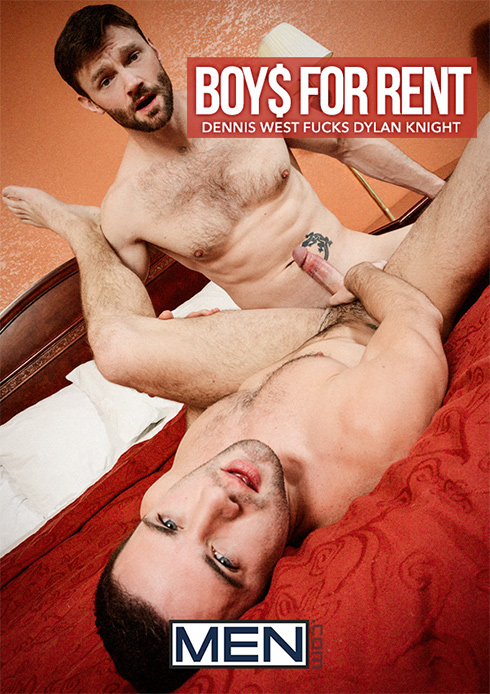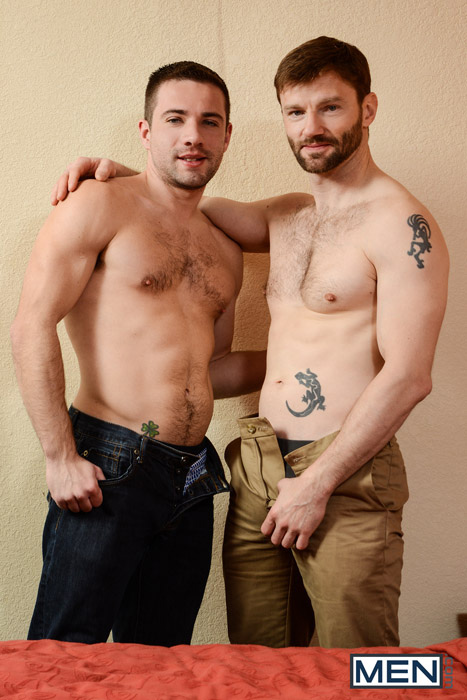 Dylan stands up on the bed with Dennis leaning over sucking on his eight inch thick dick and licking on his young ball sack. Then Dennis tells him to on his hands and knees with his head down, and his ass up in the air, which Dylan does with a sexy smile on his face as he feels Dennis' hot breath hovering over his exposed asshole.
Dylan may be a rent boy, but he howls out with pleasure as he tells Dennis he's never had his ass eaten out like the way he is doing before. Encouraged by his moans and groans Dennis spits directly onto his asshole and laps it up with his probing tongue which makes Dylan squirm about with excitement.
Dennis then stands up with one leg on the floor, and the other one is up on the bed as he pushes his hips forward and slides his aching hard dick straight up Dylan's tight wet asshole. Dylan feels Dennis' hanging ball sack banging against his as Dennis drills his young hole, and he strokes on his own stiff cock at the same time.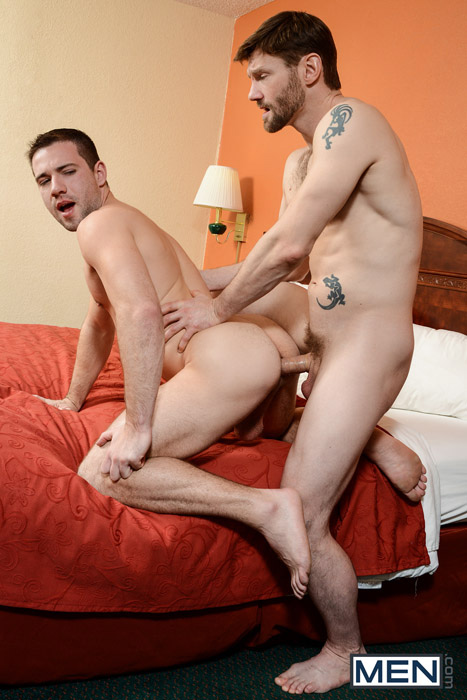 The camera zooms in close as Dylan Knight gets his asshole banged again and again by dirty Dennis as he fucks him in various positions all over the bed. Dylan shouts out he about to cum and as his body stiffens whilst he is still getting fucked by Dennis West, he cries out and thick blobs of hot cum blast out of his cock which fly out over his young body and even onto his mouth. Dennis pulls his dick out of Dylan's cock and splatters his handsome face with his own fresh hot jizz.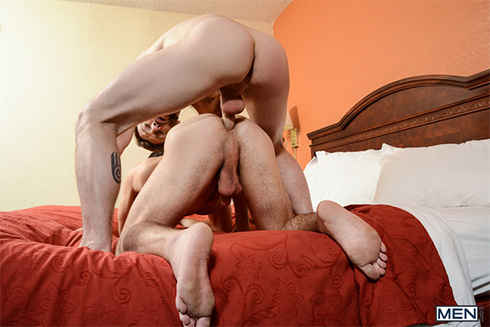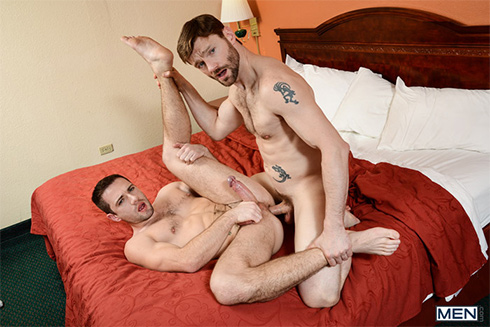 Dennis West is an all exclusive star to gaypornstarstube.xxx and quite often plays the part of a daddy or uncle figure. He has starred in 23 hardcore movies for them so far since his first movie back in July 2015 in 'My Mom's New Husband Part 2' where he gets his ass fucked by another all exclusive star to gaypornstarstube.xxx, Will Braun. Dennis is a versatile hairy man with an eight and a half inch cut dick and a large set of balls. He has brown hair blue eyes and is five feet ten inches tall.
Dylan Knight is a good looking versatile young Jock with a smooth hard chest and a thick eight inch cut dick. He has brown hair, innocent looking blue eyes and is five feet eight inches tall. Dylan has been in eight hardcore movies with the website and in his first movie with them, 'The Listener Part 2' he got the chance to ride the hard cock off of Jarec Wentworth, who is the latest naughty-man of porn.