'Drill My Hole' is an amazing team that put out the very best of the best in hardcore movies by Men.com. Their never seems to be a soft cock untouched or an aching asshole unfulfilled. The 'Serial Fucker' is no exception, and in this episode we see Diego Sans, the man hunter searching for his prey, and this time his prey is Luke Adams, who has an amazing fuckable bubble butt.
Diego Sans stands by his window looking out to see which good looking man he is going to have today, it all depends on his mood on what kind man he wants. He loves men of all types, but today he sees Luke Adams chatting outside to some of his friends, and once Diego Sans knows he wants you, there is no going back, you will be his. Diego Sans is a good looking man with a wonderful body and a hard six pack.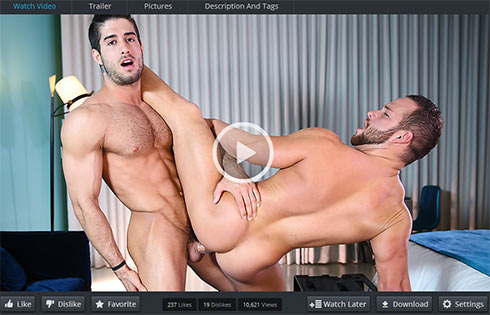 Diego and Luke are up in Diego's apartment kissing each other strongly on the lips. Their hands glide over each other's hard bodies and they grind their hips into each other. They pull their clothes off and stroke on the other one's hard cock. Luke pushes Diego onto the couch and gets between his powerful thighs. Luke smiles and goes down on Diego's cock straight away causing him to groan out deeply with pleasure. Diego knows he has picked the right man today as he enjoys getting his cock and ball sack sucked so much by Luke's young but experienced mouth.
Luke moves up and with his feet on the couch he crouches down as Diego slips underneath him and licks all around his inviting rim. Luke moans out this time as he loves someone licking his asshole, getting it ready for something bigger and harder. Diego strokes on his own cock as he works his darting tongue deeper into his ass. Still lying down Diego takes Luke's cock in his mouth and Luke's ball sack bounces up and down on his unshaved chin as he gives him a great face fuck forcing his cock all the way down Diego's throat.
Luke moves onto the floor and bends over and Diego gets behind him, licks his ass one more time and then stands up and pushes all of his seven inch cock straight into his ass without stopping. Luke loves it as his asshole gets banged harder and faster by the second. Luke stands on one leg and puts the other one on Diego's shoulder as Diego carries on ramming his cock deep into his tight smooth crack.
As Luke Adam's lies back, Diego strokes on his cock whilst he fucks him in the missionary position and doesn't let go until Luke's cum flies out of his cock and lands on his smooth hard body. Diego Sans leans back, his body shines with sweat as he pumps on his cock until his hot spunk shoots out landing all over Luke's ravished body.
Diego leans over and kisses him and Luke tells him he has worked up an appetite when Diego tells him that he is not running a bed and breakfast, and tells him it's time to check out.
Diego Sans is a great looking man with a slightly hairy chest and an athletic body with a great six pack. He is a top with a seven inch uncut dick. He has brown hair, brown eyes, is five feet ten inches and weighs 175 pounds. Diego has been in all three 'Serial Fucker' movies and over 35,000 people have seen him fucking tight and willing hot young assholes.
Luke Adams has been in 21 flicks for Men.com which includes the very popular series 'My Two Daddies part 1, 2 and 3' which ended up in a fantastic hardcore orgy. Luke is gorgeous and has that boy next door that everyone wants. He is a versatile bottom with a seven inch cut cock and loves to have his ass fucked for hours on end. He has brown hair, cheeky green eyes, is five feet seven inches tall and weighs 170 pounds.