In a darkened room with just candles for lighting, two horny men kiss each other lovingly on the bed. Diego Sans and Mike De Marko are true 'Gods Of Men' as they make sensual love to each other's hard and hairy bodies in front of the Men.com award winning team.
As they kneel naked on the bed, it's impossible not to notice the huge tent like bulge in Diego Sans' underpants as these two super horny men kiss each other hard on the lips. In fact, his cock is straining against his pants so much, that you half expect his cock to rip the material wide open and escape from its trapped confinement.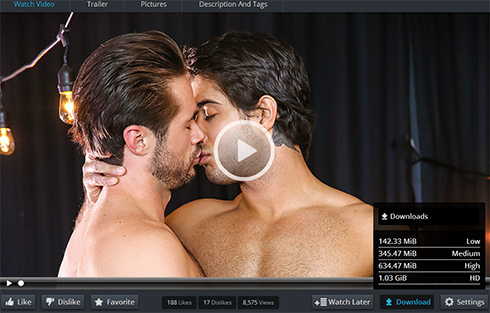 After kissing Diego's hot body all the way down, starting from his small dark nipples, Mike De Marko pulls Diego's pants down before they snap open of their own accord. He takes his thick hard dick into his mouth and lovingly sucks it all the way up, and back down again, causing Diego to softly moan out with extreme pleasure. Diego gets even more turned on as Mike tickles and fondles his sensitive ball sack as he carries on sucking on his seven inch dick. (His cock looks much bigger than this.)
Mike De Marko then gets up on the bed, and with his ass high up in the air, he bends over showing off his hairy asshole to Diego. Like a bitch on heat, Diego sniffs his sweet tight ass and pokes his tongue directly on his opening and pushes it further in. Mike growls with a heightened sense of arousal as Diego pulls Mike's cock underneath his body, and between his legs so that he can suck on it, and then back to his twitching asshole that is begging to be fucked.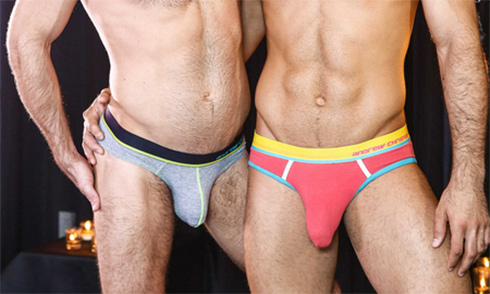 After making sure Mike's asshole is swimming in his spit and saliva, Diego gets him on his hands and knees and slides his condom covered cock deep into his excited hot asshole. Mike's cock throbs underneath him and he moans and groans with each thrust of Diego's hips as his dick sinks further into him and batters against his prostate which threatens to bring him closer and closer to shooting his load.



The sounds of sex fill their ears as Diego flips Mike over and drills his hole with a slow and steady rhythm in the missionary position. Diego Sans can feel that Mike is close to the edge as his asshole goes into spasms around his cock. He thrusts quicker and faster and watches as Mike De Marko pours his thick cum over his exhausted and fucked body. Diego throws his condom away and as he jerks rapidly on his own dick, cum jets out and sprays Mike's cum coated body.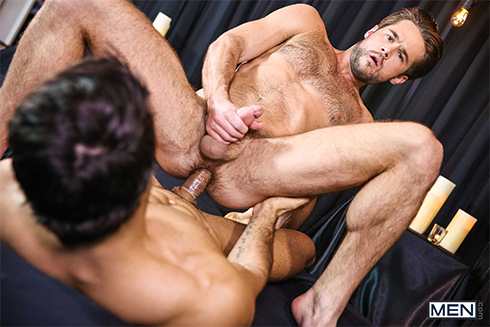 Diego Sans is an all exclusive star to Men.com this year and has starred in twenty one hardcore movies for them so far and has even fucked his wat through New York in 'New York City Whore' where he fucks Jordan Bass in part one, Ricky Decker, in part two, and Scott Riley in part three. Diego is a five foot ten-inch Brazilian top and has a seven inch cut dick (even though it looks about two inches bigger). He has short brown hair, puppy dog brown eyes and weighs 175 pounds.
Mike De Marko is a very popular porn star with his good looks, hairy and lean body, and has starred in fifty two hardcore movies with Men.com since he first started with them back in November 2012 with Andrew Stark in 'Major League.' As well as an international porn star, Mike is also a great entertainer and was even in Tyler Swift's musical pop video 'We Are Never Ever Going To Get Back Together' where he gets showered in glitter. Mike is a great power bottom and has a lovely seven and a half inch cut cock which loves having a hot wet mouth wrapped tightly around it. He is five feet ten inches tall, has brown hair, sexy brown eyes, and weighs 150 pounds.