Adam Bryant, who is now an exclusive hottie for Men.com, and Scotty Zee, star in this first hardcore episode of a brand new series shown by 'Drill My Hole.'
Adam Bryant is in a 'pick up' team of basketball. At five feet six inches tall his nick name is Shorty to a couple of his tall friends. Four friends playing with their hoop in the city are having fun until Adam's phone goes off. He tells his friends that he has to go home to the wife, as his dinner is ready. As he leaves his friends wonder why they have never seen his wife before, and wonder is she knows that her Adam, is on the all gay pick up team. As Adam walks away, he admits to the camera that he really does have a wife, but he's not going home for dinner, well, not just yet anyhow, he has another stop to make on his way home first.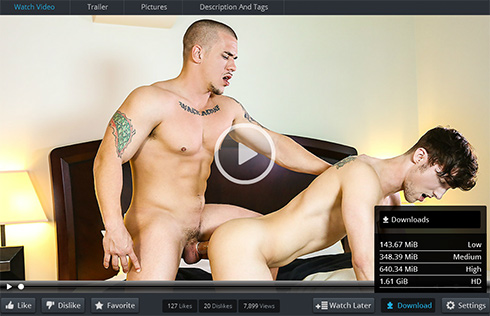 As Adam Bryant opens another door, there is Scotty Zee, naked, standing waiting for him, his smooth chest and hard nipples just waiting to be touched, his firm ass on show and his flaccid seven and a half inch dick all waiting to be licked and touched. They kiss, and Adam gets naked and lies down with his back to the mattress.
Scotty Dee bends over in-between Adam's out stretched legs and starts sucking on Adam's seven inch thick cut dick. Adam loves how tight Scotty's mouth actually is, and can't help himself from shouting out with the deepest, darkest of pleasures. Scotty sucks his cock so much that Adam's cock glistens with his spit, he pulls out of Scotty's mouth when he feels his cock throb dangerously close to cumming. He looks down at Scotty's slim body and tells him he wants to fuck him.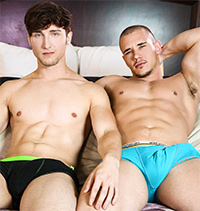 Scotty is on all fours with his ass sticking up in the air he is so desperate. Adam kneels behind him and slaps his wet cock between Scotty's asshole and rubs it up and down. He asks Scotty if he's ready, and as Scotty says yes, Adam slides his cock into that tight hole inch by wonderful inch. Scotty groans with a guttural sound as his asshole gets filled up so much, it feels like he is about to split open. Adam lets him get used to the length and width of his cock inside his asshole before he makes another move.
As Adam fucks Scotty's sweet asshole doggy style, they cry out in unison as their bodies tingle all over as Scotty humps his ass back and forth and as Adam carries on ramming his cock deeply into him. Scotty then climbs on top for a while and the sounds of skin slapping against hot sweaty flesh fills the room as he rides him like a runaway bronco.


Scotty Zee scrunches up his eyes as tight as he can as he gets fucked hard in the missionary position, he shouts he's about to cum, and then shoots his hoy spunk over his fucked and sweaty body. Adam Bryant moves up his body and spreads his legs either side of Scotty's lower chest, and with one final howl, Adam busts his nuts and makes his thick salty cum spray all over Scotty's chest.
Adam Bryant is a new exclusive star to the paysite which means you don't need to look any further than gaypornstarstube.xxx for hardcore movies with him in. He is good looking with a kind of Spanish appeal. He is a top guy with short cropped brown hair and a designer beard. Adam has a smooth hard chest with great dark and hard nipples. He has a seven inch cut dick and has a great bubble butt. He is five feet six inches tall and has very sexy and seductive brown eyes. Adam has starred in nineteen hardcore flicks with gaypornstarstube.xxx , and in his last movie, 'Top To Bottom: Adam Bryant', he got his ass fucked for the very first time.
Scotty Zee is six feet tall with brown floppy Hair and has sparkling blue eyes. Scotty is a bottom and has a seven and a half inch cut dick. Scotty has only been on one other movie for the site so far, and that is 'All I want For Christmas' where he gets ass fucked under the Christmas tree by Diego Sans, another new exclusive star to gaypornstarstube.xxx.