'Drill My Hole' brings you the best hardcore videos around, all for Men.com. These are great videos at great prices, and as usual, they bring you the best quality with the hottest men. On top of all these great looking horny guys, Men.com also have models who work exclusively for them. Bennett Anthony, who is in this hot flick, is one of the elite eleven at this moment in time.
It's easy to see why Bennett Anthony is among the elite class. He is into keeping fit, and it shows. He loves to lift weights and go jogging to keep fit. He has striking red hair with a trimmed designer beard. He is five feet eight inches and weighs 174 pounds. He has got some amazing tattoos around his muscular firm body and loves nothing more than fucking a tight ass with his six and a half inch, cut cock. His first excusive movie with Men.com is called (just so you know), 'The New Exclusive: Bennett Anthony' where he fucks the smooth young ass of Johnny Rapid, who is also another one of the elite eleven. This has been viewed by 27,554 horny hard men so, a very good introduction to this great industry if you ask me.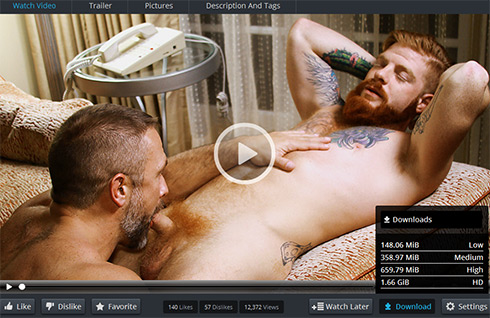 In this, his latest flick, he plays a horny rent boy. He puts on a pair of spray on blue shorts and a white vest showing of his firm muscled body. Putting on a blonde wig he goes outside. Standing next to a tree by the curbside, he poses and pouts at the passing cars as he looks for business. A car pulls up and a gorgeous hunk of a man, Dirk Caber, asks Bennett where a certain hotel is.
Dirk Caber is a very good looking muscled mature man with blonde hair, soft blue eyes and a salt and pepper beard. He is a versatile man and, as well as enjoying a cock up his tight asshole, he also enjoys young men hogtied with their asses in the air. He is happy with either; he is always horny – which is a good thing in this industry. He has been in nineteen flicks including the popular series 'Stepfather's Secret.' This has been seen by over 80,000 people in just its first episode, and he has starred in all eight so far, which means we will now see two very popular horny men cum together in the start of a brand new series.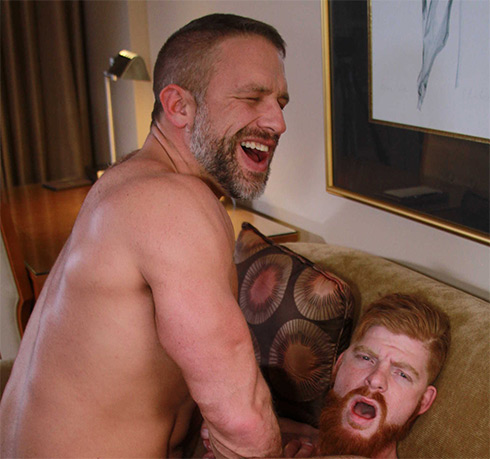 Bennett Anthony jumps inside the car and shows Dirk Caber the way to go. It's a hotel for rich men and, once inside, Dirk gives Bennett a whole wad of cash. Dirk just wants to talk at first revealing that he is married but he is leaving her. After a while Bennett seductively crawls on his hands and knees between Dirk's spread legs. He undoes his pants and takes Dirk's cock into his willing mouth. As the camera zooms in we see Dirk's stiff cock swimming in Bennett's saliva. Massaging his hairy ball bag in his hand, Bennett keeps on teasing Dirk with his hot mouth and slippery tongue.
Dirk then gets between Bennett's muscular naked thighs and takes his hard dick to the back of his throat. Eager to please the younger man dirk alternates licking and sucking on his dick and heavy ball sack, making Bennett moan out with pleasure. After getting his cock all wet, Bennett slips on a condom and lies back on the couch.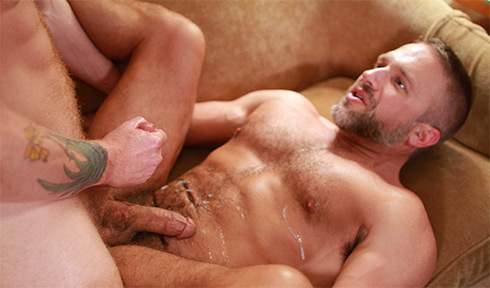 Dirk climbs up, squats over his stiff erection, and slowly slips his tight asshole over Bennett's waiting dick. The looks on these men's faces show how much they are lost in their own wonder-lust world as their sweating bodies go up and down, matching each other's thrust as that dick rams in and out.
Laying with his back on the couch whilst getting his asshole well and truly punished, Dirk's body stiffens and then jerks up and down as his hot white spunk flies over his hairy body, splattering down on his muscular chest and firm stomach. This scene is so horny that when Bennett Anthony sends his own cum onto Dirk Caber's heaving sweating body, you feel you can almost smell, touch and taste its musky aroma. Now this is what porn filming is all about!