Fucking Mormons has been a great fantasy for so many over the years. All those tight young asses in those black tight pants just dying to get fucked… Well now, thanks to Men.com, 'Drill My Hole' can show you the second exciting episode as Paul Canon carries on pretending to be a Mormon just to get men into bed. It is so easy, I don't know why so many of us haven't done it before. Paul is such a natural in front of the camera, and even talks us through how easy it is to it as he looks directly into the camera. In this episode he meets up with Jason Maddox as he jogs down the street. Let's see how easy it really is for Paul to do this.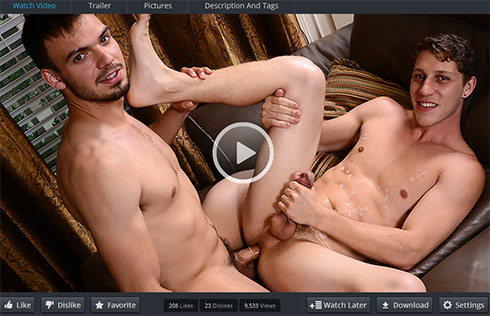 The movie starts with Paul waking up and getting out of bed. He looks directly into the camera and talks to us. He tells us how easy it is for him, and says that he will prove it. He gets into the shower and we get a brief look of his naked body; when he tells us to get out, he makes us feel as if we really are in the room with him.
The next thing we see is Paul walking down the street in his crisp white shirt and tight black pants, the typical Mormon attire. Straight away Maddox comes into view as he is jogging down the street. The two men smile at each other and Paul asks Jason if he wants to hear about the good book. Jason says he would love to and takes him back to his house.
Once inside the house Jason puts the book down and tries to touch Paul. Paul tells him he can't, he puts up a pretend stance against Jason trying to come onto him but we all know what's going to happen. Jason lifts Paul up and places him on his kitchen worktop and starts kissing him. Jason's hands go straight between Paul's legs and undo his pants as Paul watches keenly. Jason strokes his cock and begins to suck it up and down. It's a great turn on watching Paul's smooth balls going up and down with it each time. Paul tells Jason that he is so good and leans back letting Paul carry on sucking on his seven inch dick.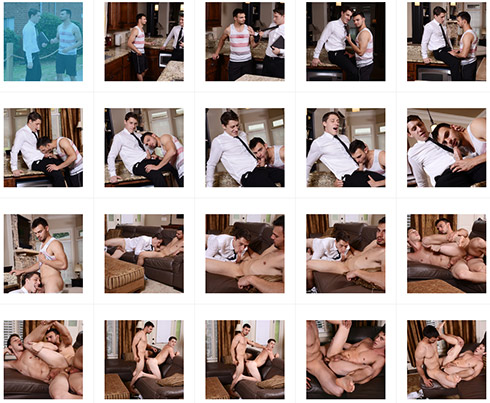 Jason pulls Paul onto the floor onto his knees and gets Paul to suck on his dick this time. Paul is still in his Mormon uniform as he massages Jason's ball sack and gives him a great blowjob. They strip naked and get on the couch where Paul continues happily sucking on that delicious tasting cock of Jason's, all musky and tasting of sweat after his early morning jog and not having had a shower.
The boys feel so hot and horny by now and Paul gets up on his knees with his ass towards Jason. Jason kneels behind him and pushes his cock inch by inch into his tight warm asshole and fucks him doggy style. Paul moans and moans straight away as he feels his ass widening up to take the width of Jason's fat cock. They lie down and Jason spoons Paul as he keeps one leg up in the air.
The missionary desperately wants to get fucked in the missionary position so he gets on his back and Jason drives his hot cock into his greedy little ass. This is what Canon wanted, and this is what he is getting. He strokes and jerks on his cock as he gets ass fucked and ejaculates over his smooth young flesh. Jason jerks his cock out, throws the condom away and as his cock throbs in the palm of his hand, his hot juicy spunk dribbles out in a thick creamy string onto Paul's breathless body below him. Paul suggests they take a shower where you can just jerk off once again at what they may be getting up too.
Paul Canon is a handsome clean cut young man with short brown hair and brown eyes. He has a smooth athletic body with a couple of great tattoos. He is a versatile top with a seven inch cut dick, is five feet ten inches tall and weighs 160 pounds.
Jason Maddox is a good looking bottom boy although in this movie he plays a great top. He has a seven inch cut dick, has short brown hair, brown eye, is five feet eight and weighs 165 pounds. Jason has been in a few flicks now including the hot and hard series 'Down Low' which turns into a great and wonderful fuck-fest.