The Nerd And The Escort is just one of the many gay male sex videos that has been filmed by Men.com, and this hot movie has been released by Drill My Hole, and stars two all exclusive stars to Men, Jordan Levine and Will Braun. Men.com has ten sites that make up this fantastic network, and they are: Big Dicks At School, Drill My Hole, Gods Of Men, Jizz Orgy, Men Behind The Scenes, Men Of UK, Str8 To Gay, Super Gay Hero, The Gay Office and Top To Bottom.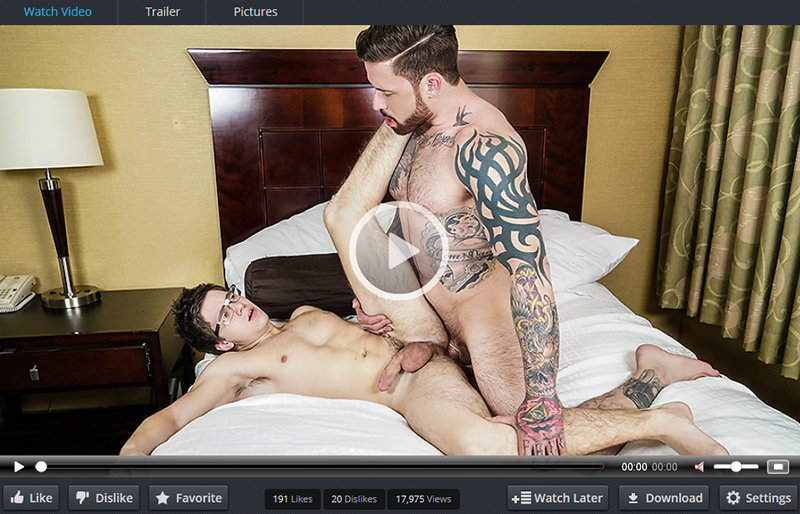 The Stars
Jordan Levine is a butch hunky guy with a hairy muscular body that has tattoos all down his arm. He has trendy brown hair, beautiful brown eyes, and he is six foot tall, versatile, and he has a seven-inch cut cock and a firm ass.
Jordan has starred in eleven hardcore movies for Men.com so far, and his first gay male sex movie with them is called 'The Boyfriend Experience' alongside Brenner Bolton and Conner Maguire.
Will Braun is a sweet looking college jock who has bought wearing glasses into porn look hot and horny. Will has dark brown hair, innocent looking blue eyes, and he is five feet six inches tall, and he is versatile with a seven-inch cut cock.
Will has starred in 74 hardcore movies for Men.com, and in his last movie, he got set up in a great threesome fantasy story in a hot movie called 'The Book 2' with Dennis West and Diego Sans, who are also both all exclusive stars to Men dot com.
The Movie
Will Braun is starring as the nerd, and he starts off by pacing up and down in a big hotel room. His hands are sweating, and when he hears a knock at the door, he gets all nervous. As he opens the door, his eyes light up as he sees Jordan Levine standing there. He invites him in, and they sit down on opposite beds as Will hands over a big wad of cash. Will has waited all is life waiting for this moment, and as he tells Jordan that he is a virgin and never done anything like this before, Jordan starts to make him feel a bit more relaxed.
Jordan strips naked, and Will can't stop staring at his muscular naked body as Jordan helps Will get naked.



They get on the bed, and Jordan kisses Will fully on the lips as his hand wanders over Will's untouched body. Will's cock gets rock hard as Jordan kisses his sensitive nipples first, and then he goes further down his torso and puts Will's cock into his mouth. Will sighs out with lust and bites his bottom lip when Jordan starts sucking on his cock and playing with his cum filled balls.
Will is in ecstasy as his dreams start to happen for real. He soon changes positions, and as he sits on Jordan's face, he bends over and takes his first ever cock into his mouth and sucks it up and down. His moaning gets louder and heavier with excitement as Jordan opens up his asshole with his fingers, and starts probing his virgin ass with his experienced tongue. Jordan tells him how much he is going to enjoy fucking him, and Will's cock pulsates with pleasure in anticipation.
Will Braun gets onto his hands and knees, and as he bites his bottom lip yet again, he feels Jordan Levine's cock against his eager asshole. He cries out loud as he feels a cock entering his asshole for the first time. Jordan takes his time fucking his ass to start off with, but once Will is used to his size, he starts ramming it harder and faster.
They make so much noise that I can only guess that the whole hotel can hear them having sex and that the person in the next room is jerking off at the same time. Will lies down on his side as Jordan spoons his cock into him, and after a while, Jordan is fucking him like a train out of control in the missionary position. Jordan pulls his cock out and shoots cum all over Will's smooth body, and Will cums only seconds later.
The Nerd And The Escort is a fantastic gay porn movie that will make you all remember the first time you had sex with another man. As those memories come rushing back to you, and as you watch this hot and horny action, I dare you not to shoot a heavy thick load of cum before the movie finishes.