This new hardcore movie, starring Johnny Rapid, Adam Bryant and Will Braun, has taken the gay world by storm. It has been mentioned in newspapers and on the internet, and I've even heard people speaking about it in the bars. 'Fuckemon go' is an obvious gay parody of the children's cartoon series 'Pokémon'
All though the cartoon is still on the TV, Pokémon is still loved by young adults who remember watching it when they were young. I have seen a great debate or two about 'Fuckemon Go' on the internet. Some people think it's fantastic and can't wait to see it. But some people think it's disgusting to make it into a hardcore gay porn movie. I haven't joined in with the debate as yet, but my own thought is: 'Get the fuck over it, it's a porn movie, if you don't like it, don't watch it, it's your loss.' Actually, you will miss out big time, this is a cock jerking erotic experience with Johnny Rapid, who is an all exclusive star to Men.com and is now classed as the naughty man of porn.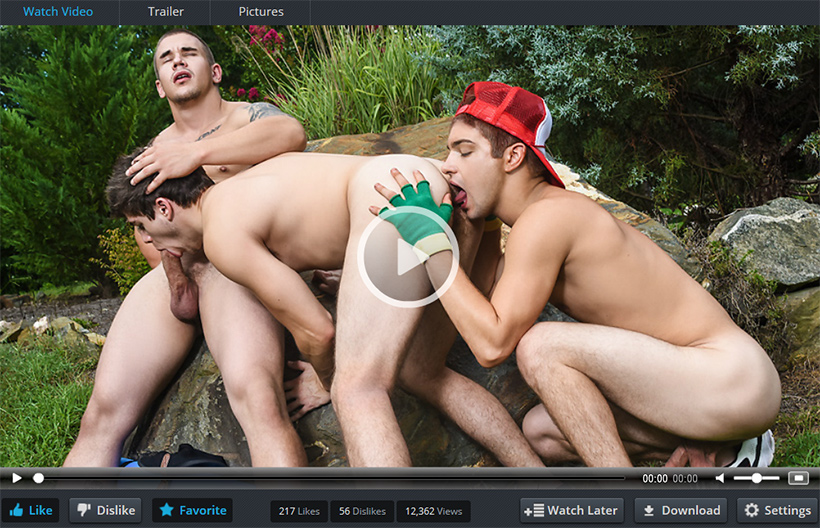 The porn stars

Johnny Rapid is an amazing young man and can get into positions that some of us can only dream about. He still looks like a twink even though he has been around for a few years now. He is one of the most famous names in the gay porn world today, and there is even a list of the first 100 men to have fucked him. Not bad for a straight guy is it?
Johnny is five feet six inches tall, has brown hair and sexy brown eyes. He is versatile and has a seven and a half inch cut cock and a tasty cute ass. Johnny has been with Men since 2011 and has starred in 174 hardcore movies with them. His last movie is called 'Vacation Better' where he gets his hot butt drilled by Dimitri Kane.
Also starring in this movie is Will Braun, who is also another all exclusive star to Men. He has that sexy college boy look, and even though he has starred in 61 hardcore movies for Men, he still has that sweet and innocent way about him. He is somebody your mother would love to see you settle down with.


Will Braun Has brown hair innocent blue eyes and is five feet six inches tall. He is versatile and has a seven inch cut cock and a juicy firm ass that needs to be licked and fucked.
Adam Bryant is the third handsome young man in this movie. He has a gym built body and a lovely six pack. He has got that seductive Latino look which makes you want to just stare with lust into his deep drown eyes. He has got short cropped brown hair, and is five feet six inches tall. He is a top with a seven inch cut dick and has starred in 26 hardcore movies for Men. Adam was also the main man in the 'Freaky Friday' series where he starts off as an old man, and he makes a wish to be young again which happens. He uses this chance to fuck all the men in his neighbourhood.
The movie itself
Johnny Rapid stars as 'Ash' the main guy from the cartoon. He and Will Braun go outside to play Pokémon, a game where you throw balls at a target and you gain points. (This is a huge popular game for all ages now which the world has gone crazy for.) He is getting a lot of points when he sees 'Peek-A-Choo' (the main cartoon character along with Ash). Johnny throws his ball at him, and instead of Peek-A-Choo disappearing into the ball and gaining points, he turns into a hunky guy, Adam Bryant. They can't believe their luck, especially as Adam is standing there naked except for a small pair of briefs. Adam calls them over and the boys jump at the chance of fucking a Pokémon.



They go over to him, and the first thing they do is rub his muscular chest and feel the weight of his heavy looking packet. They still can't get over it, but they are so excited that they pull his briefs off. Will starts to suck on Adam's rock hard cock, Johnny goes straight for the balls and sucks on them one at a time, and then both together.
Johnny stands up and Will takes it in turns sucking on both their cocks. Will is so turned on that he needs his ass serviced. Johnny and Adam strip him naked, and as Will bends over to take Adam's meaty cock back into his mouth, Johnny gets behind him and starts licking all around his rim. Then he plunges his tongue in as far as it will go into that juicy dark hole. Johnny then exchanges places with Adam, and Adam slides his cock deep into Will's slutty tight asshole. If it wasn't for Johnny's cock down the back of Will's throat, he would have cried out loud as he feels his asshole being spread wide open and stuffed with a fat cock.



After getting his cock sucked by Will, Johnny then sits on top of Adam's cock and rides him like there is no tomorrow. As the sun starts to go down, these three go wild until Johnny Rapid shoots thick creamy cum all over his smooth young body. Will Braun and Adam Bryant sit on a rock as they jerk themselves off and they soon shoot their loads too.
Johnny points his ball at Adam (Peek-A-Choo) and he disappears, leaving Will and him with cum over their ravished bodies and speaking about how great it has been. They only wished they had had a camera to video the whole lot as no one is ever going to believe that they have just been fucked by Peek-A-Choo.



This movie has been filmed by the award winning team 'Menand released by 'Super Gay Hero' which is part of its large network.
'Super Gay Hero' is a newish site and has 46 hardcore fantasy movies all about your favourite super heroes. Most of us have been bought up reading comics such as Superman, the X-Men, Batman and even Captain America. They are the 'In' thing nowadays, but on film. All of these comics I have just mentioned are now in fantastic gay XXX parodies, which, if you ask me, are better than the real thing.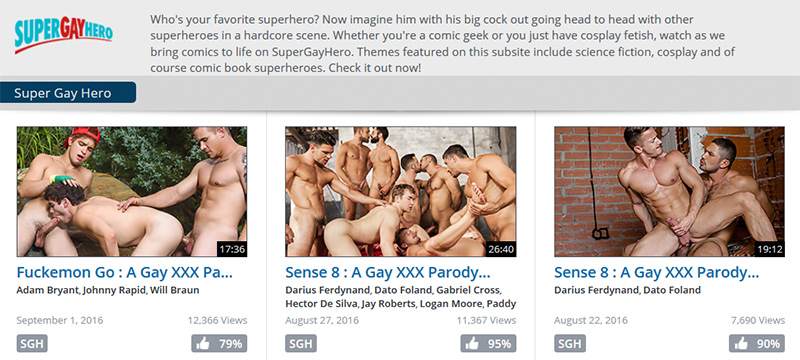 The movies are of the highest quality and are offered at DRM-free MP4 format. They can be downloaded in four sizes including 1,920 x 1,080 which are full HD and the largest size, down to 480 x 290 which is good for mobile phones.
Each video also comes with a set of high quality photos which are sized at 1,663 x 2,495. They can be downloaded in a zip file, or watched on a hands free slideshow.
'Super Gay Hero' is just one of ten sites in the Men network machine which has 2,118 hardcore movies spread out over all its sites. The other sites are: Big Dicks At School, Drill My Hole, Gods Of Men, Jizz Orgy, Men Behind The Scenes, Men Of UK, Str8 To Gay, Super Gay Hero' The Gay Office and Top To Bottom.
The MEN network is a fantastic network which seems to have cornered the market with its many themes and hot men. It has won many awards over its five years including Johnny Rapid winning Best Porn Star of 2014 and Best Gay Scene was won by 'Gay Of Thrones' in 2015. The quality is the best you can get as is the sound and the men. Men also promotes safe sex and make sure that the guys have a test before every movie they are in.