Dani Robles is the newest member of the team at The Gay Office. He's been interviewed and checked out, he's been offered a position and you get the impression that he's going to be taking up several other positions before long. He's a bit irresistible, standing at six feet high and having a slightly hairy chest, a great tattoo over half of it, brown eyes, a full beard and a kind of lost and lonely look that makes you want to take him under your wing. Mind you, as six feet tall you'd need a pretty big wing to take him under. But the neat thing to read on his profile at The Gay Office is that he's a bottom.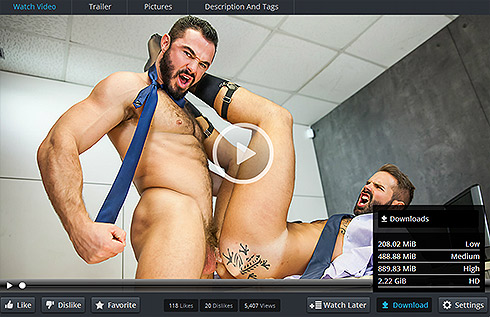 But, if you're a bottom and you like the idea of hunky tops rather than hunky bottoms, then you're going to be pleased to know that with Dani Robles in this scene is the every hunky Jessy Ares. Also six foot, also bearded, but a top guy, Jessy has appeared in several movies for this company, and I can't think of anyone better to break in the office junior than him. This scene is called 'Decisions' and your only decision now is when to go and take a look at it. (I suggest in a moment, when you've read what takes place:)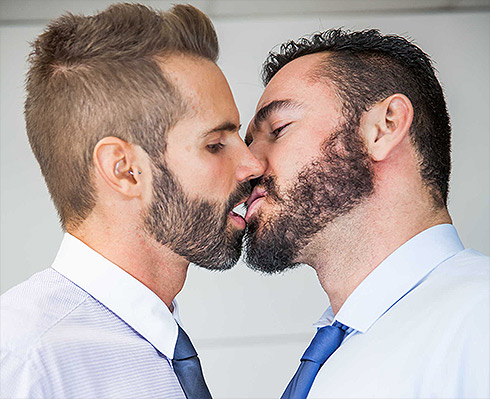 Jessy Ares is hard at work when he gets a call; sales are down and someone's got to go. So who is going to be fired, Jessy or Dani? But Dani is Jessy's best friend and so it doesn't seem fair that it's up to Jessy to decide, but that's the task he has before him. He calls Dani up to explain the difficult situation, and then tells him that it should be Dani who goes. It's a well-played, emotional scene that not only brings in backstory (as they say in the movie biz) but that leads subtly and passing into the sexy stuff (as we say in porn). Two bearded guys, old friends with a history, kissing tentatively and then passionately; a great way to start off the hardcore part of the scene.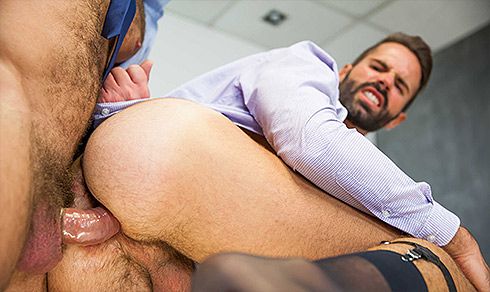 Still with suits and ties on, the guys get their dicks out through their suit trousers and start blowing each other. Both dressed smartly, both with beards, both the same height it's almost like watching twins as Jessy Ares gets his mighty meat sucked well and long by new-guy Dani Robles. The office soon resounds to the sound of 'fuck yeah' and other noises of sexual pleasure. The guys swap around, shirts are undone, muscled chests come on show and Dani's dick gets seen on screen for the first time as bearded, studly Jessy Ares pays it some long slow suck attention.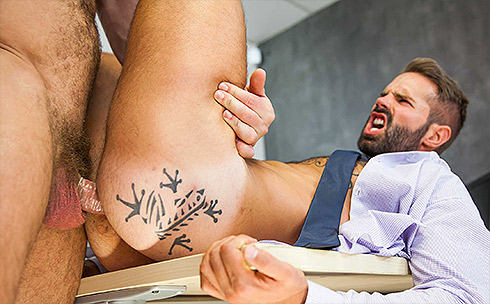 He soon moves that attention to Dani's ass, rimming him as the guy kneels up over the desk, showing his hairy hole and white ass cheeks. Jessy plays with his ass a nice long time, lubing it up, grabbing the guys balls and running his hands over his feet, still in his socks; a neat foot-fetish moment if ever I saw one. He fingers Dani's hole hard for a while before finally screwing him harder across the desk. More clothes come of, though socks and ties remain a feature for fetish fans. Dani sits on Jessy's dick, his shirt undone showing his fit body and his inked skin. He sucks that long cock some more, the guys change positions but Jessy stays on top, finally drilling Dani Robles on his back right over the office table before coming in his mouth. And, for foot and sock fetish fans there's a great little twist at the end, something you're going to need to see for yourself.