Gods Of Men is the site we're looking at today, and in particular their latest release, 'Good Morning Love.' This scene, in the true tradition of the site, takes two studly, handsome guys and puts them together in a sensuous, sensitive scene that's' not so much about hardcore as it is about erotica. Okay, so it does get hard and fast and we get the cum shots and the heaving and humping we want to see, but it is handled in a more 'soft focus' way than Men.com's other scenes and sites.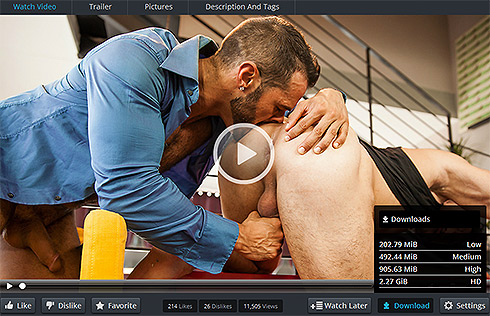 In this scene we see the return of dark and muscled, moody and broody Denis Vega, last seen last year in the 'Men In Ibiza' series where appeared with Paddy O'Brian in his debut and went on to be topped by the likes of Dato Foland and Rogan Richards. Here he is up against a new guy on the block, the fit and muscled and equally as studly, handsome, moody and broody, Flex Xtremmo. Where this guy comes from I have no idea, there must be a place that turns out such hunks, gym-fit guys with perfect bodies, nicely hung cocks and manly, chiselled looks, and in the case of Flex, a nice dark stubbly beard too.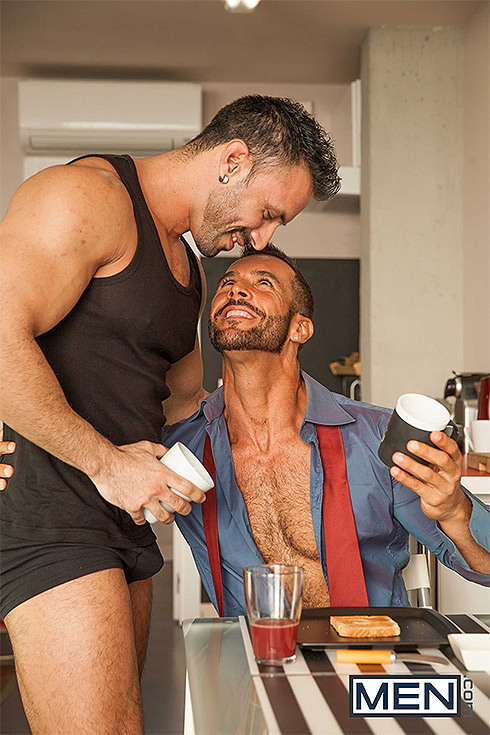 So, that's' the set-up, what's the story? Well, it's a natural one. Two guys living together, early morning, breakfast time… Denis Vega is having breakfast, slowly getting himself together, toast and tomato juice, and then, in the background, Flex Xtremmo appears, in his underwear. He writes a love note on a mug and gives it to Denis and the two hunks kiss tenderly as lovers do. But sometimes just one kiss won't do and the guys move over to the chair and the better light. What's really horny here, and what will send all underwear fans over the edge, is the sight of these two manly guys in their tight fitting black underwear. You can add to the special moments from his scene the part where Flex starts to dress Denis, putting on socks (that well appeal to all foot fans) slowly, and then adding suspenders.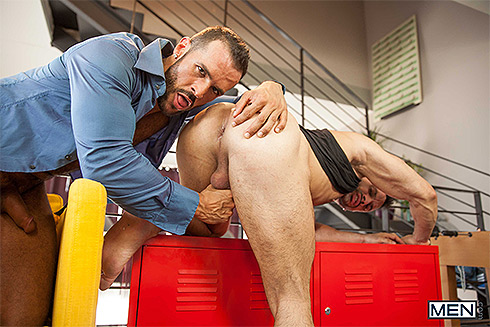 But that's about as far as they get, the sex urge takes over and before you can say, 'Dude where's my tie?' Flex Xtremmo has started discovering the joys of the hung cock of Denis Vega, who is still in his socks and shirt and still only half dressed. These guys know how to give and take a bit of morning head and Denis' dick is rampant. He's also playing with his clothing, suspenders in his mouth, and around Flex's neck as his partner grabs his dick and starts pulling on it. The clothing angle is maintained as the guys swap places and now Denis Vega goes down on Flex Xtremmo who has pulled up his top to show us his muscles, his flat six pack and his shaved pubes.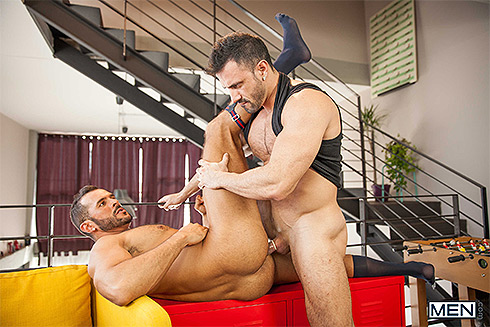 The foreplay and build-up of this scene is unparalleled in anything we've seen of late and it's not until around 15 minutes in that the guys get down to some really in-depth ass attention. Once again Denis plays bottom and presents his ass to his partner who wastes no time in fingering it, riming it, tasting it and giving Denis Vega some deep mouth to ass action. A little later, when Denis is lubed up and ready, the guys are still only half dressed with ties and shirts hanging off, Flex Xtremmo starts to fuck his bottom buddy. And this he does from behind, to start with, later getting Denis to sit on his cock. These two studly guys fuck hard right through to the end of this extra-long scene, at 30 minutes it's ten minutes longer than the average hardcore porn flick. And by the time both Flex Xtremmo and Denis Vega shoot their loads, you're gaging to cum along with them.