Some of the best hardcore movies around are shown by 'The Gay Office', and in this episode, filmed by Men.com, we get to see what happens in a hotel room with Addison Graham and Damien Michaels as they give Landon Mycles their personal services.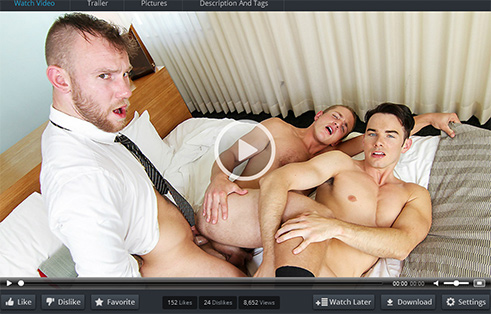 Landon Mycles is in his hotel room still wearing his suit and on the phone to the concierge. He had such a great time last time that he has come back for more, even though he is 'straight' and married to a woman. Whilst he is on the phone, Addison Graham, a co-worker with Landon, sneaks into the room and listens to his call. Landon is surprised to see him, and even more surprised when Addison tells him that he wants to join in the fun. He waits with Landon for Damien Michaels, the sexy concierge, to arrive.
Addison rushes to the door when the concierge knocks, and the three horny men stand there in their suits looking at each other. Damien didn't realize it was going to be a threesome, but he's more than happy to fuck them both and he asks them what they want to do.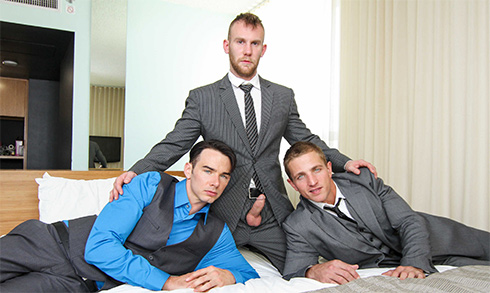 Damien lies on his back on the bed as Addison gets on one end of the bed and pulls Damien's thick seven inch dick out of his pants, and takes it willingly into his greedy little mouth. Meanwhile Landon gets on the edge of the bed and kisses Damien as he fondles his muscular chest through his suit shirt.
Landon watches as Addison sucks on Damien's cock until both him and Addison takes it in turns to suck on Damien's cock. Landon and Addison strip naked and then Landon goes back to sucking Damien's cock, and Addison climbs on top of the headboard and shoves his cock in Damien's mouth. Addison moves forward slowly, and he sighs out with pleasure as Damien licks all around his musky asshole.
Landon moves onto his back and pulls his knees up to his chest. Damien gets on his knees and licks and fingers his tasty crack. Damien then kneels up and as he pushes his hard dick straight up Landon's tight ass, Addison strokes on his own cock as he watches them fucking right in front of him, and then shoves his cock into Damien Michael's mouth as he continues to drill Landon's ass in the missionary position.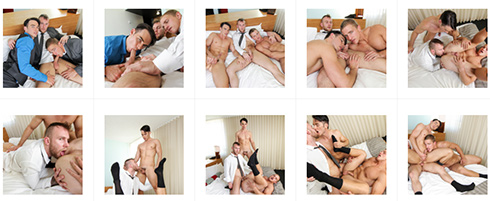 Addison Graham gets on his knees next to them, and Damien slides his cock out of Landon, ass, and straight up Addison's. Damien fucks both of their assholes until he feels his cock pulsating deep inside Landon Mycles battered and bruised hole.
Damien and Landon shoot their hot jizz over Landon's exhausted body and Addison cums over his own body as he jerks on his on his eight inch cock.
Addison Graham is a six foot bottom boy with short brown hair and bright blue eyes. He is lean with a smooth chest and an eight inch cut cock. Addison has starred in three hardcore movies for Men.com, and his last movie was a real cock jerker as five horny men get naked together in 'The Cult Part 3.'
Landon Mycles is a six feet tall versatile bottom and has a six inch cut cock. He has a muscular body and a lovely tight asshole. He has short cropped blonde hair and beautiful blue eyes. Landon has starred in 15 hardcore movies for Men.com and is about to get fucked again in his next movie, 'Demolish.'