'Jizz Orgy' shows off the best of the best movies by Men.com, which are full of sexy and horny young men that love fucking tight assholes and getting fucked. This amazing hardcore movie stars some of the best looking young men in the industry today, including 'Johnny Rapid and Adam Bryant who are exclusive stars to Men.com. Also starring in this cum flying movie is, Armando De Armas, Bennett Anthony, and Darin Silvers.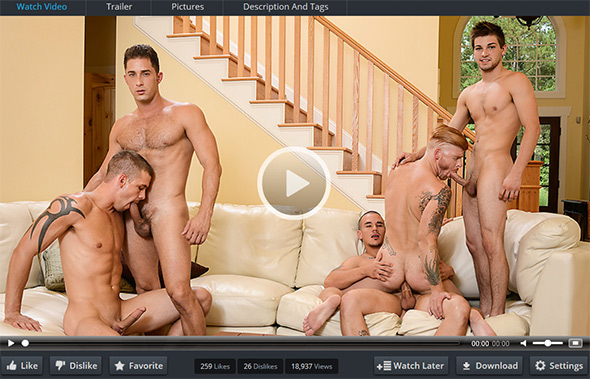 Johnny Rapid introduces himself to his new neighbour Bennett Anthony who ends up inviting him round his house another day for an all-male pool party.
Johnny came back on Saturday as he's looking forward to the BBQ and getting some hot meat down his throat. Johnny gets the surprise of his life when he walks through Bennett's door and sees four men, including Bennett on the two couches sucking each other's hard cocks. He almost leaves but Bennett talks him into getting his clothes off and joining them, whilst he is in the middle of getting the head of his cock licked and sucked by Armando De Armas. Although Johnny isn't too sure, his cock is rock hard by the time he strips naked and he sits on the back of the couch offering his cock to Bennett who is still getting an amazing blowjob. Adam Bryant is getting his cock sucked by Darin Silvers cock on the other couch which makes for some great cock sucking action.
Bennett is the fuck pig in this as he shouts towards Adam to come and fuck his ass as he hasn't as yet touched his dick. The room fills up with the heavy musky scent of man sweat as the fucking begins, and as Bennett rides Adam's cock, he sucks on Johnny's straight dick. The camera zooms in and we get a great view of Adam's cock plugging Bennett's ass with his thick dick.
Bennett Anthony and Johnny Rapid are in their glory as Adam Bryant, Armando De Armas and Darin Silvers all take turns in fucking their sweet tight assholes. Bennett then gets them all in a circle around him, and as he lies on his back, each and every one of them cover his face and body with their scolding hot cum.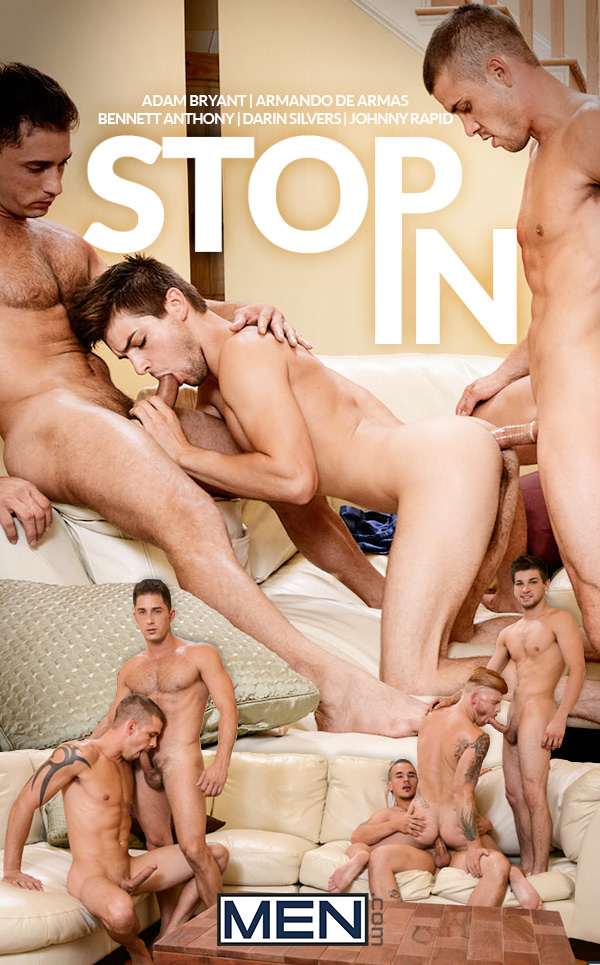 Adam Bryant is an exclusive star to Men.com, and he has a hot and horny smooth body. He is muscular with a few tattoos, and he has a seven inch cut dick. Adam has short cropped brown hair, sexy brown eyes, and is five feet six inches tall. He has always been a top man, but in his next movie things are about to changes for him, and in a good way as he gets his ass broken in by Diego Sans, another exclusive star to Men.com.
Armando De Armas has a muscular hairy body and a fantastic chiselled chest with dark and hard nipples. He is a top and has a thick eight inch, uncut cock. He has brown hair, brown eyes and is five feet seven inches tall. Armando's first flick with Mn.com sees him getting all wet and hard in the shower with, Horus Sweet, in 'Shower Encounters Part 1.'
Bennett Anthony is one of the most popular porn stars today and is in demand all over the world. He has a hot muscular tattooed body and has amazing red hair and bright blue eyes. He is versatile and has a seven inch cut cock that he loves to get sucked on at every opportunity. Bennett has starred in over thirty hardcore movies for Men.com and doesn't care who he fucks, or who fucks him, as long as it's sex, he doesn't mind.
This is Darin Silvers' first movie for this gay website, and he is a very top who is eager to fuck some tight assholes with his seven inch cut cock. He has blonde hair, blue eyes, and is five feet ten inches tall.
Johnny Rapid is also an exclusive star to Men, and has starred in 154 hardcore movies for them, and has over 60k followers on Twitter. He is a versatile young man with a seven inch cut dick, he has brown hair, brown eyes, and is five feet six inches tall.