'Str8 To Gay' show off all the best men, thanks to gaypornstarstube.xxx, and this hardcore episode is no different.
Rocco Steele and Luke Tyler are both pretty new to Men.com.
Rocco Steele has been in just one other flick with Men.com so far, and that was 'Eat, prey, Fuck Part 1', with Josh Milk, but he is by no means new to the industry. He has an amazing 68.5k followers on Twitter and has been in a lot of other porn movies. He has a muscular body with tattoos, and he is very handsome in a tough and rugged way. Rocco has also won the titles of Mr New York, and Mr International. He is a top with a seven inch cut dick, has brown hair and seductive blue eyes. He is also five feet ten inches tall and weighs 205 pounds.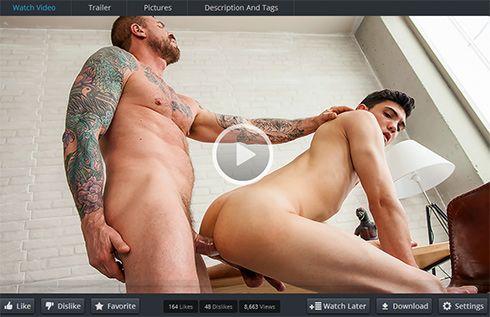 This is Luke Tyler's first porn flick with Men.com and he is a natural in front of the camera. He is a tall good looking man and is six feet two inches tall with an athletic smooth body. He is a versatile bottom with a six and a half inch uncut cock and a wonderful tight ass that will have you cumming in seconds. Luke has short black hair and very sexy brown eyes, and weighs 154 pounds.
This hardcore flick starts off with Rocco Steele sitting on his stairs playing his guitar when he hears a knock on the door. It is Luke Tyler who wants him to sign some legal papers. Rocco invites him into his house and as he signs the paperwork. He looks seductively into Luke's sexy eyes. Luke asks him if he wants to join him some time with his friends in a special kind of club, and Rocco takes the hint. He takes his glasses off and tells him to show him what kind of thing goes on in this 'special 'club of his.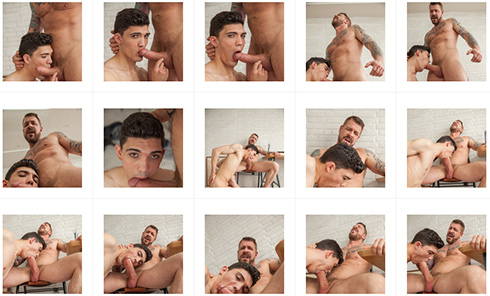 They kiss each other on the lips, and as they get more passionate Rocco rips Luke's shirt wide open, buttons fly everywhere. Rocco grinds his hips in Luke's and he squeezes and licks Luke's small dark nipples.
Luke wants more; he wants to feel Rocco's thick hard cock in his mouth. He gets down between Rocco's powerful legs and gets his dick out of his pants and puts it in his mouth. Rocco growls like a bear on heat as he feels Luke's hot wet mouth around his throbbing cock. As Luke carries on sucking on his dick, Rocco face fucks him back, growling with lust the whole time. Rocco peels off the rest of his clothes and sits down with Luke never missing a beat as he carries on doing what his lips where made to do.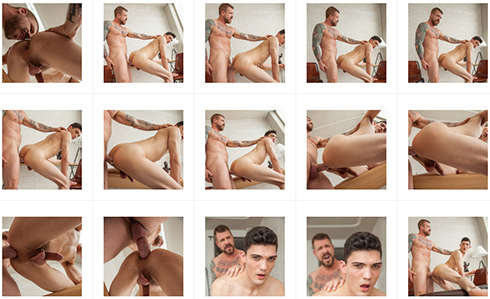 Luke stands up and bends over getting themselves even more excited as Rocco gets behind him and licks and fingers his tight asshole. Luke strokes on his six and a half inch cock as Rocco stands back up and slides his condom covered cock all the way in, right up to his tightening ball sack.
Great close up shots follow as Rocco drills his cock in and out of Luke's asshole. He fucks him in the missionary position. Both men moan and groan with built up excitement as Rocco pounds Luke's tight crack again and again. Rocco Steele stands up, and with Luke lying down in front of him, he strokes his cock a couple of times and his boiling hot cum erupts out of his pulsating cock and on to Luke Tyler below him. Luke pumps on his own cum and so much sum spurts out of his own cock that it covers his face and even goes into his open, waiting mouth.
With cum still all over Luke's face, Rocco tells him that yes, he sure would like to meet his friends, and with that, he kisses Luke full on his cum covered lips.