Miami is full of hot gay young men, and as Diego Sans and Brendan Phillips turn up for a holiday, they put a bet on, on who can catch the best men. Men.com film the hardcore action and 'Drill My Hole' show us what happens in this episode, when Brendan Phillips meets up with the hunky hairy Ricky Larkin on the beach.
Not wanting to lose the bet with Diego, Brendan Phillips sees the hot muscular hairy body of Ricky Larkin as she stands there in his shorts as the life guard. Brendon makes sure that Ricky gets a good eyeful of his lean smooth body, and then he runs into the blue sea and pretends to be in trouble.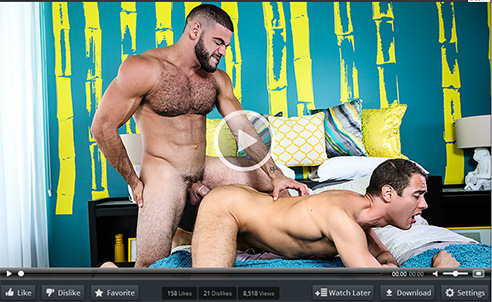 Obviously Ricky runs in and brings him back to the shore. He lies Brendan down and gives him the kiss of life. Brendon puts an arm around him and kisses him back on his sweet and salty lips. Ricky asks him if he is ok, and Brendan tells him that he almost ok. With that they smile at each other and they go back to Brendan's hotel to get under the shower together.
Brendan goes straight down on his knees pulling Ricky tight swimming trunks with him as he goes down. The shower water cascades down over their hot wet bodies as Brendan takes Ricky's eight and a half inch cock into his mouth and starts to suck on it. Ricky is a strong hunky man, but he soon becomes putty in Brendon's mouth as he carries on sucking on his delicious hard dick.



With the hot water still tumbling down over their naked bodies, Ricky stands Brendan up and turns him around to face the wall. Brendan quickly moans and groans with a great pleasure as Ricky goes down this time and circles his tongue around his sensitive ring piece. Brendon bends over making sure Ricky sticks his tongue right up his smooth tight crack, and after getting it dripping with, they move into the bedroom.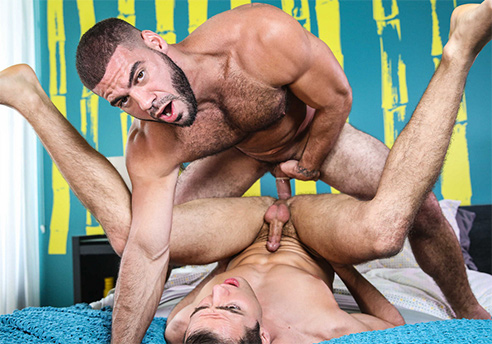 After sucking on Ricky's cock again, Brendan gets on his hands and knees with Ricky right behind him shoving his thick dick in-between his firm cheeks and deep into his incredibly tight asshole as he gets fucked doggy style. Ricky fucks Brendan's ass so deep that he pushes Brendan's face into the covers to give him more leverage, which makes Brendan's moans and groans of excitement come out all muffled.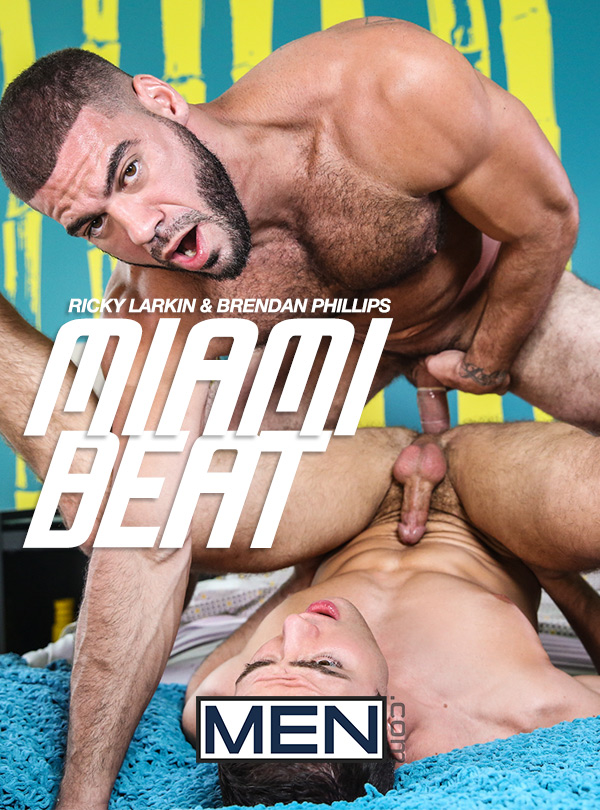 Ricky Larkin sucks on Brendan's throbbing cock for a bit, then fucks him faster in the missionary position as Brendan Phillips releases a whole load of fresh cum over his sweating body. Ricky pulls his thick dick out of Brendan's asshole and squirts his thick creamy jizz inside Brendan's mouth and over his face.
Brendan Phillips has a great smooth athletic body with a fresh cut young face. He is a cute versatile bottom with a seven inch cut dick, short brown hair, sexy brown eyes and is five feet eleven inches tall. Brendan has starred in five hardcore movies for Men.com which includes 'Stealth Fuckers' parts 6 and 7 with Landon Mycles and Johnny Rapid.