Whoever said that British guys were reserved and backwards when it comes to coming forwards, had clearly not seen anything taking pace at Men Of UK. As you probably know, this is one of the sites in the Men.com network of sites and when you sign up there and join one site, you get access to them all. This particular site is all about bringing together the best of British porn models in inventive scenes, sometimes with porn stars of different nationalities, such as American. There are a few guys who appear regularly on this site and they've got a great name for themselves, guys such as Paul Walker who happens to be one of my all-time favourite Brit-boys when it comes to porn.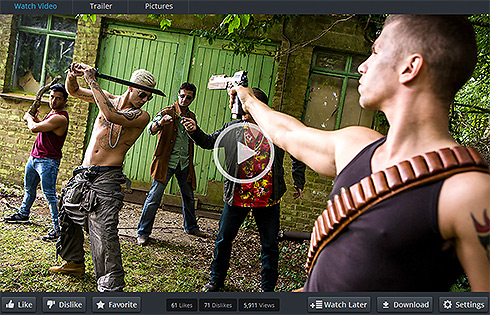 He's got a cute look, with soft lips and dark eyes and there's also something slightly dangerous about him; I'm not sure what that is but I'd love to get him alone in a dark alleyway and find out. He's six foot tall, has a neat tattoo on his left shoulder and, more to the point, sports and nice long eight inch Brit-dick that's cut. As a porn actor he is versatile. In this scene Paul Walker, who has made 37 movies for the company, appears with another Brit guy who we first saw in The Law Of Men, a few weeks back.
Mickey Taylor has the appearance of being a wild kid from the street, the kind of guy you might expect to come from a broken home or something. Tattoos all over the place, a wild look, and very streetwise. And yet, there's something vulnerable and cute about him too. So, with two hot UK lads lined up for a scene, what's it all about? What happens'? Who fucks who?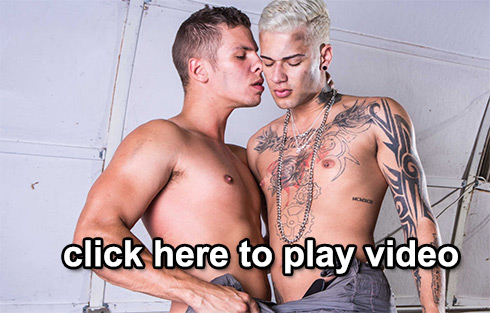 There's a great start to this scene, it's so well done it made me smile and took me right back to the early days of my cinema-going. Tacky music, crackly screen and a 'preview of coming attraction' with dramatic 1980's music and voice over. Nice! Okay, so spoof trailer out of the way (but do watch it, don't just jump through it, and remember that it is a spoof) we soon get down to some business. Mickey Taylor has had his hair dyed and is a white blonde in this scene, but sexy young Paul still looks the same as the last time we jerked off over his image. They trailer for the spoof movie slides easily into the real action we came to see as the two guys start getting it on and stripping each other down.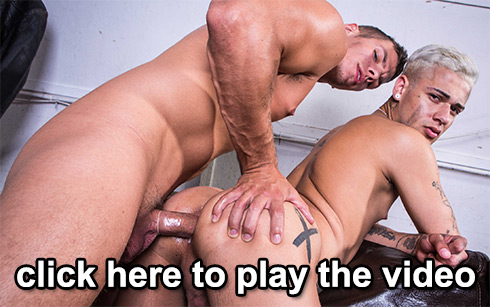 Two smooth, slim, sexy British boys kissing and undressing is hot enough to see, but when Paul Walker starts getting his eight inches blown by Mickey, things start to get really hot. He fucks the boy's mouth long and hard before turning his attention to the slim guy's ass and fingering him, lubing him up, getting him ready for a good long fuck session. Mickey Taylor is gasping with ecstasy at this point, and really wants to feel his mate's length inside him. Paul doesn't disappoint, taking the other guy from behind, hard and fast, having him bent over and punishing him hard. Later we've got Mickey squatting on Paul's cock on the black couch and jerking his own meat at the same time and later still on his back.
Mickey Taylor is still on his back when he shoots his load over his smooth, inked chest and shoulder; it's a nice big load of cum too. It's soon joined by some big gloops from Paul Walker at the end of another explosive scene from Men Of UK which ends as it began, with 'Coming soon…'