'Sense 8: A Gay XXX Parody Part 2' is a great parody of the American TV series. This episode is made by the gay site Men, released by Super Gay Hero, and stars Hector De Silva and Sunny Colucci.
In the original American TV series of Sense 8, it portrays eight strangers from different parts of the world who suddenly become "sensates"; human beings who are mentally and emotionally linked. The show aims to explore such things as politics, identity, sexuality, gender and religion. As good as the series is, I have to admit, this is far much better and much more exciting.
The first episode stars Logan Moore and Men exclusive star, and the UK's leading gay Pornstar, Paddy O'Brian. In the first episode Paddy O'Brian wakes up in London, and when he goes into another room, he finds himself in Prague, and realizes the new power he has got, and has amazing sex with Logan Moore, another 'Sensate.'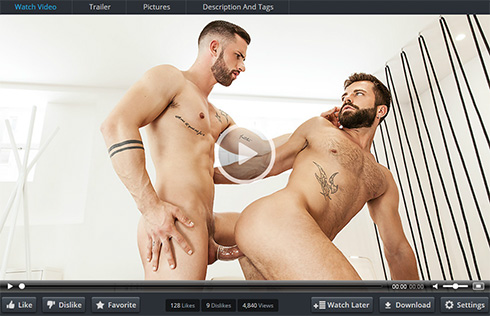 The gay movie
Part 2 starts off with Hector De Silva waking up in his bed with his alarm clock going off. (Hector looks very much like a young version of George Clooney, with a beard.) He goes into the bathroom and cleans his teeth, when he hears his alarm going off. He goes back into his room, turns it off and goes back to the bathroom.
In another part of the world, Sunny Colucci (a new guy to the porn industry, and very sexy) wakes up to his alarm going off and he goes into his bathroom.
In their own individual bathrooms, with time and space between them, these guys see each other through their mirrors. (Very science fiction) They look at each other in the mirror, and they touch the mirror from both sides with a finger, and they feel a connection. Hector washes his face, stands up, and as he turns around, Sunny is standing directly in front of him in his bathroom. Without a word being said, they know who the other person is, they step forward and their lips meet as they kiss in a tender embrace.
They go into the bedroom where they carry on kissing, and their hands wander up and down their sexy hot bodies. Hector kisses Sunny's smooth dark nipples and their hands go into each other's underpants. Sunny gets down on his knees as he pulls Hector's underpants down and starts sucking on his hard cock. Hector sighs out with pleasure with the feel of his wet mouth around his seven inch cock. He bends over as Sunny carries on sucking his cock and pulls Sunny's underpants down just below his butt. The camera goes into his ass, and we hear the sounds of Hector's cock being sucked as he slides a finger up and down over Sunny's sweet tight asshole.
Sunny gets up on his knees as Hector bends over next to him. Sunny puts a finger in his mouth, and very slowly slides it into Hector's asshole. Hector moans out again with excitement. Sunny then rims Hector's ass with his tongue, kisses him up and down his spine, and then licks his ass once again with his probing tongue.
Hector sucks on Sunny's raging hard dick for a while, then gets back on his hands and knees as Sunny get behind him. He licks Hector's ass, then kneels up as he slides his condom covered cock deep into that sweet tight ass.
After banging him for a while, they change positions, this time it's Sunny who is on his hands and knees. The camera gets in just below Hector's balls and stays on Sunny's open asshole and we watch as Hector's cock disappears inch by inch right up to his balls as he fucks his ass doggy style.
Hector De Silva then gets Sunny on his back as he drills him in the missionary position. Sunny cries out as he gets drilled and as he feels his cock throb in his hand, his body stiffens and fresh hot cum spurts out over his body. Hector withdraws his cock, and his cum joins in with Sunny Colucci's over his smooth fucked body.
The Gay Pornstars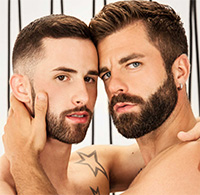 Hector De Silva, as I have said, looks a bit like George Clooney, only better looking if that's possible. His has a hairy toned body and a beautiful tight ass. He is five feet seven inches tall, has brown hair and beautiful blue eyes. He is a top, but will bottom for the right person, and he has a lovely seven inch cut dick.
Hector has starred in eight hardcore movies for Men, and he makes a hot and horny storm trooper in 'Star Wars 4: A Gay XXX Parody' in which both him and Paddy O'Brian fucked the tight bubble butt of Luks Adams.
Sunni Colucci is new to the porn industry this year, and this is his first movie with Men. He is a good looking young man with a smooth toned body and a few tattoos. He is five feet six inches tall with short brown hair and sexy brown eyes. He is versatile and has a seven-inch uncut cock which means to lick and suck on.