What a great world we live in, where we can go on a business trip and just call the front desk to get someone to come and have some hardcore fun. Gaypornstarstube.xxx go into the magical business world and film the men in suits having unadulterated fun for 'The Gay Office' to give us fantasy after fantasy. Landon Mycles stars as the stressed out business man looking for some hardcore relief from the concierge, played by JJ Knight.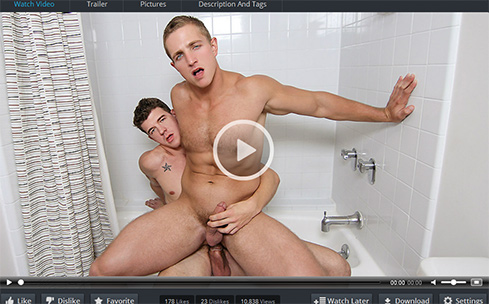 Landon Mycles has just arrived in his hotel room, he is stressed and calls down to the front desk and tells the man there that he needs sex, and he needs it now. Landon heads for the shower and a few minutes later the concierge, JJ Knight pops his head around the bathroom door and asks Landon if he is ready. Landon shows he is more than ready by showing him his hard cock and muscled hairy body as he steps out all wet and gives JJ knight a big kiss on his cock sucking lips, and makes JJ knight's uniform wet a the front as he grinds his hips onto JJ's pants, and against his growing cock.
JJ strips naked as they kiss and being a good concierge, he squats down, kisses the throbbing head of Landon's thick cock and as he opens his mouth, he takes it all to the back of his throat, and sucks greedily on Landon's freshly cleaned cock. Landon growls with satisfaction as he feels his ball sack tighten up as JJ licks the length of his cock all the way down to his balls, and then back up again before he engulfs the whole lot between his tight wet lips.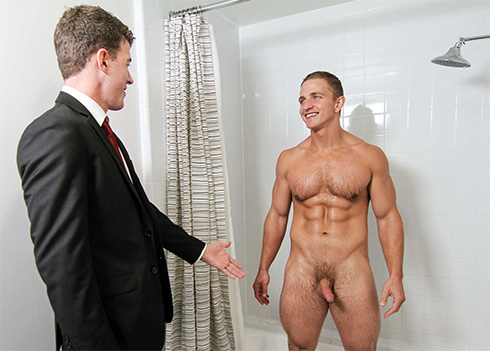 JJ sits on the toilet with the lid down and Landon goes down on his eight and a half inch dick and makes sure it's dripping wet with his spit and saliva as he gives JJ a fantastic blow job. Landon knows exactly what he needs and as he stands up and bends over in the shower, JJ gets up behind him, rolls on a condom, and shoves his lovely thick cock deep in to Landon's tight hot asshole. Landon's ass gets fucked deep and slow to begin with as they stand up, but soon goes hard and fast as their excitement builds up and it they end up fucking intensely in different positions. The camera zooms in as JJ carries on fucking Landon's ass until Landon shouts he is about to cum as he gets fucked in the missionary position.



Cum streams out of Landon Mycles pulsating cock and lands over his hairy body in big thick blobs of thick heavy man spunk. JJ Knight pulls his cock out and as the camera zooms in once again, JJ's scolding hot cum blasts out all over Landon's fucked asshole and empty ball sack.
JJ Knight is a good looking, clean cut young man with a smooth hard chest. He is a top who loves to batter a tight asshole with his thick eight and a half inch cut cock. He has light brown hair, brown eyes and is six feet two inches tall. JJ Knight Has been a porn star since 2012 and this is his third movie for us since joining in December 2015 in 'Trust Me It's Not Gay', where he has hot sex with Tommy Regan.
Landon Mycles hardly needs any description as most people in the industry know him straight away. He is in high demand around the world because of his good looks, blonde hair, blue eyes and he is an amazing power bottom. He is also a versatile bottom, has a six inch dick, is six foot tall and weighs 210 pounds. Landon took a break from porn for a while, but now he has come back hornier than ever if that is in any way possible. Landon has starred in fourteen hardcore movies for Gaypornstarstube.xxx, and he is excellent in 'A Guide to Sex In Prison Part 1' where Sebastian Young agrees to be his bitch.