Now here's something to give us wet dreams and unlimited cock thumping times ahead! Exclusive star to Men.com, Johnny Rapid, and Brendon Phillips, star in a great college buddie movie made by the site for 'Drill My Hole.'
Johnny Rapid calls out to make sure his mom isn't at home before he brings in his college friend, Brendan Phillips, into the apartment to help him out with his college homework. Or that's what Brendan thinks he is doing there anyway; he doesn't realize that Johnny has other ideas on his mind.


As Brendan looks through Johnny's books, Johnny opens up his pants and runs a finger up his rock hard dick. Brendan looks round in shock but not for long. Johnny easily persuades him to bend down and takes his seven and a half inch cock into his hot mouth and sucks on Johnny's aching dick. The camera does a fantastic job here as we sit and watch a great close up of Johnny's exclusive dick disappearing in between Brendan's cock-sucking lips at the same time as he gently stokes Johnny's thighs.
Brendan almost rips off his pants off as Johnny leans over and deep throats Johnny's cock. The feeling of Johnny's hot mouth and tight lips almost sends Brendon into overdrive and he feels his cock jerk in Johnny's mouth.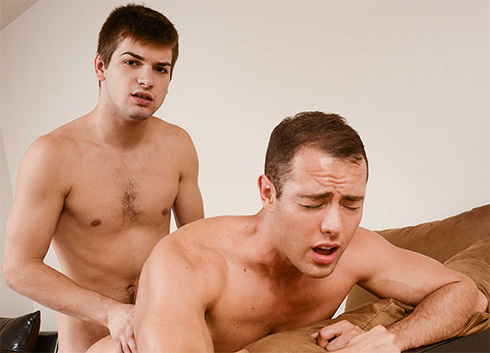 Brendan tells Johnny to 'hop on' as he sits there and Johnny tells him he wants to ride on his dick. Johnny's tight butt goes up and down and humps Brendan's cock deep inside him when he sees his mum come out of her bedroom and into another room. Brendan lies low and, as Johnny carries on humping his dick, he talks to his mum when she comes back into the room. All she can see is Johnny bouncing up and down; she can't see his bottom half. He tells his mum that his foot has gone to sleep and he's trying to get it awake again. She calls him a strange boy and leaves the room leaving Johnny and Brendan laughing as they carry on fucking.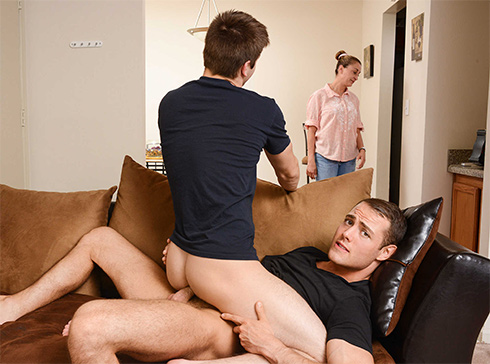 His mum shouts out if he needs anything from the kitchen and, without missing a stroke inside Brendan's ass, he shouts back he is ok. Brendan then gets on his hands and knees on the couch and Johnny rams his cock hard into him forcing Brendan to bite his lips to stop himself shouting out loud and risking Johnny's mum hearing them going wild in her front room.
Brendon Phillips gets on his back and, as Johnny fucks his sweating body, Brendan shoots his heavy thick load over his smooth hard chest. Johnny Rapid can hardly contain his noise as his fresh cum spurts out onto Brendon's thick lips and onto his chest. Once cleaned up they go back to doing Johnny's homework and his mum carries on cleaning the house not knowing that her son has just had a great sex session right in front of her.



Brendan Phillips is a good looking young man with a smooth muscled chest and a great six pack. He is a versatile bottom and has a seven inch cut dick. He has brown hair, brown eyes and is five feet eleven inches tall. Brendan Phillips is a model and performer comes from Los Angeles, CA, and has over 8K followers on Twitter. He is not new to the porn scene, but this is only his second hardcore movie for this paysite and his next exciting flick for them is called 'Slam Dunk part 2' where he gets his ass drilled deep and hard by Adam Bryant.
Johnny Rapid is an exclusive star to the paysite for those who don't know. Johnny is in demand all over the world and has starred in one hundred and forty eight hardcore movies for them since starting in November 2011 ( Learn more on twitter ). Johnny is straight (really?!) and has a girlfriend, which was in all the newspapers and social internet after he hit her in public one day (boo!). Johnny is a versatile Virgo and has a seven and a half inch cut dick. He is five feet six inches tall, has brown hair, brown eyes and weighs 135 pounds.