Mistle-hoe is a movie from Str8 To Gay and was released on Christmas Eve, and what a way for a promising new porn star to make a debut. Not only on one of the best 'straight go gay' sites around, not only on Men.com, not only on 'the most updated gay porn site' and not only a brilliant movie, but also appearing with another new and hot (and getting hotter) gay porn star, Nicoli Cole. That's quite a list of debut items to live up to, and who is it that has to live up to them? A new guy called Adam Bryant.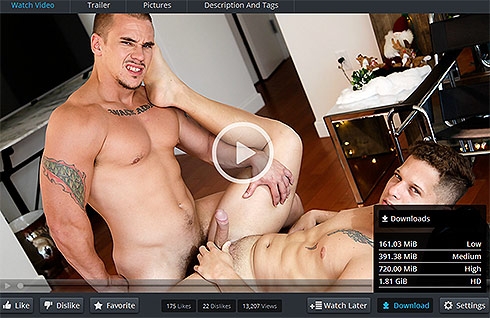 The thing with Men.com and their model profiles is that they don't tell a star's age, so in this case I'm only guessing at mid-twenties. Adam is smooth of chest, toned of muscle, cute of face and cut of cock as they may say in a fairy tale and there's something fairy tale about his looks; sweet and yet soldier-like, I'd be very interested to see him in military uniform, with his short haircut and his inked skin. He's got this really nice seven inch cut cock as well, looks 'all American' to me (though I may be wrong) and describes himself as a top. On the other hand we have Nicoli Cole who describes himself as a versatile top, which in the language of Str8 To Gay usually means bottom, and who also has a seven inch cock but one that's uncut. So something for everyone as this 'jock war' gets underway.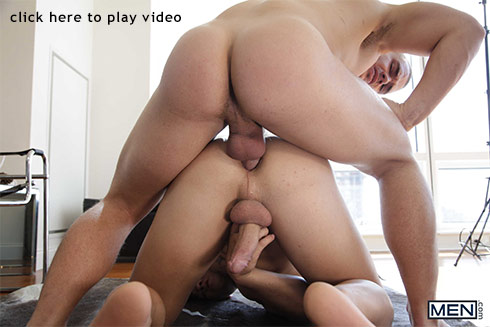 Think Christmas: ice skating in Central Park, the Dance of the Sugar Plum Fairy playing in the background and Christmas shopping. Which is where we meet the straight acting, straight looking Adam Bryant, browsing a street stall where he finds Nicoli Cole. Adam is looking for something for his GF and Nicoli seems to have just the thing, but it's not at the stall it's around the back in the shop. And it is there that Nicoli presents Adam with some mistletoe – hence the play on words of the title, Mistle-Hoe, but you didn't need me to tell, you that. Adam's a bit unnerved by Nicoli wanting to be kissed, Adam Bryant is, after all, the straight man of the piece, so much so the he has to exit to the bathroom which gives Nicoli the chance to strip naked and hang the mistletoe behind his butt-naked butt ready for Adam's return. And, although Adam insists that he is straight, he doesn't hold back when the naked twink launches himself at him and starts kissing him.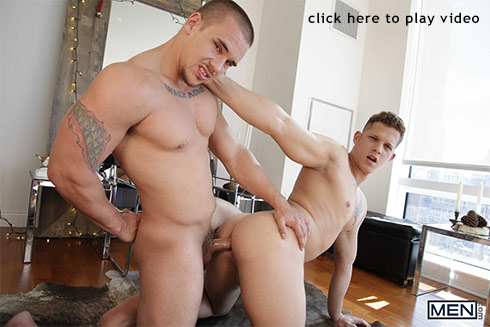 The guys grapple and there's something very sexy about a fully naked guy all over a fully clothed guy. But Adam Bryant doesn't stay dressed for long and his seven inch cut cock is soon out and down Nicoli's greedy throat. The dark haired guy sucks that straight cock like there was no tomorrow, literally slobbering all over it like some dog with a bone. It drives Adam wild, so wild that makes the other guy tickle his nuts with his tongue before face-fucking him some more and then screwing the ass off the guy. This is around 10 minutes in and the sounds filling the room are all about manly grunts and gasps as the really fit and muscled Adam Bryant works Nicoli Cole's ass like it's not yet been worked before in a porn movie.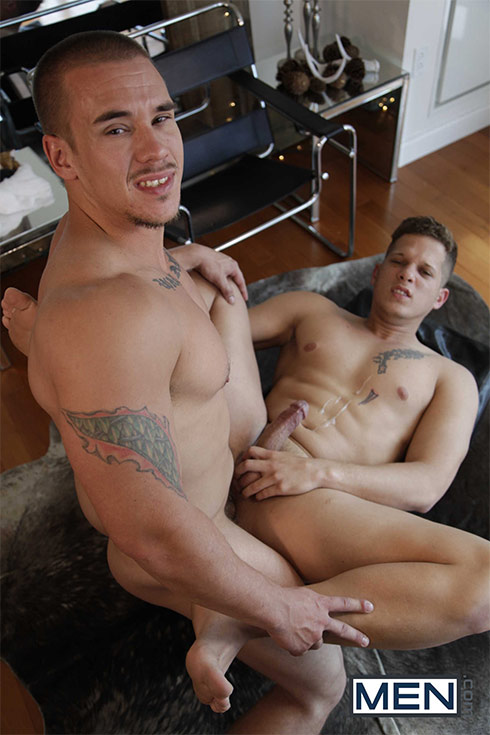 Not only can Adam fuck but Nicoli can really take being fucked hard, he sits on that dick, gets rammed from behind and loves every moment of it. His own cock stays rock hard too as he gets shafted from behind and then on his back until he unleashes a great load of cum and then gets cum-splattered by Adam Bryant in a superb debut fuck scene. You kind of forget the theme of the scene, but then who cares when you've got two great performers like these?