This site film Diego Sans and Jack Hunter and their 'Big Dicks At School' Jack Hunter is a new boy at college and is already in trouble for being late to his first lesson. Sitting at his desk near him is the good looking Diego Sans, making eyes at him. Jack writes him a note and passes it to him asking him to show him around. These two horny young men know exactly what they want, even though Jack hasn't had best porn with a man as yet; he plays a complete virgin in this amazing hardcore fantasy by Men.com. Their teacher also gets a note, but this one sends him away from school, and tells the students that class is finished, even though it's hardly begun. Everyone leaves straight away, except for Jack and Diego, who start to kiss each other in the classroom.

Knowing that they could be caught any moment just adds to the excitement filling their hard young bodies as they kiss passionately, standing up. They strip naked and Diego sits on his teacher's desk with his legs slightly spread open. Jack goes down and gets dirty as he tastes and sucks a thick, hard dick for the first time in his life. Diego sucks in the air through his teeth as he tries hard not to shout out with ecstasy as Jack sucks on his cock like an expert.



Jack gets up and climbs onto two school desks. His legs spread wide apart as one knee rests on one desk, as the other knee, on the other desk. Diego leans forward, puts his hands on Jack's firm butt and circles Jack's open ring with his tongue. As Jack pushes his ass into Diego's eager face, Diego pierces through his rim and delves in deeper with his tongue, a part that's never been touched before which drives Jack insane with a lust he's never had or even never knew existed.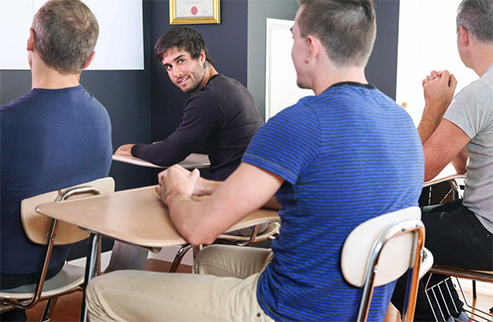 The camera goes between their legs, and we get the most fantastic view of a cock sinking slowly into a virgin asshole. Jack groans out with a deep desire as Diego fucks him slowly at first, enjoying the tightness of his asshole clamp around his raging hard cock. After fucking Jack's sweet ass for a while, Jack sits down as Diego sucks on his eight inch thick dick and caresses his balls at the same time.
Jack Hunter is hungry for more cock in his ass, so, he climbs on top of Diego's dick and rides him hard like a galloping horse. Diego Sans flips him over and drills his asshole deep and hard as he fucks him in the missionary position. Jack jerks on his cock and whilst he is still getting his asshole battered, his jizz shoots out and splashes on his hard and hot flesh. Diego see all the milky white cum jetting out, and as the heavy aroma intoxicates him, his cum blasts out right onto Jack's young face.


I'm not too sure what class they are in, but they sure do get a 'A' plus for their oral work and practical biology.
Diego Sans is one of the new all exclusive star to the site and it's easy to see why. Just look at those ripped muscles and Brazilian (puppy dog) eyes and brown hair. Who could possibly resist him? Diego is a top guy and loves to pummel his seven inch dick into a smooth tight ass. He is natural in front of the camera, but can't stop laughing when he is interviewed in the documentary 'The Gay Porn Stars Of Men Reveal The Questions They're Tired Of Hearing.'