'Spymaster part 1' is a great movie to jerk off too. It has been filmed by Men.com for Drill My Hole, which is just one if it's ten networked sites, all of which you can access when you become a full member of this fantastic site.
'Drill My hole' is probably one of the best sites around today in gay porn. It is full of all kinds of horny men who want to slam their cocks deep into tight assholes and blast their cum over handsome faces, or someone's fucked ass.
All their movies are HD, high quality and come with the best sound. Each movie also comes along with a picture set, which can be downloaded or seen in a slideshow which leaves your hands free to stroke your cock – or even someone else's as you go through each hardcore photo. Again, they are all high quality.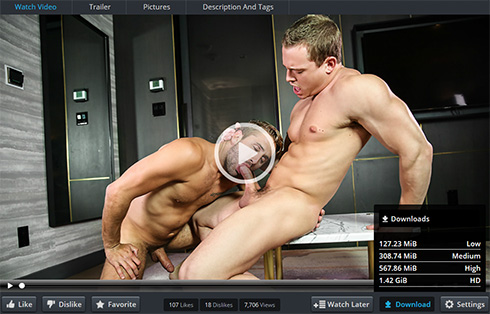 The movie
'Spymaster Part 1' the movie, is no different from the rest with its high quality picture and great sound. It will have you foaming at the mouth as you stroke franticly on your cock as you watch Tommy Regan and Wesley Woods having hardcore sex together. They don't realise that they are being spied on by Colby Jansen, a hairy bear who is dying to plug Tommy Regan's tight ass. But you will have to wait to see what happens when Colby eventually does get him on his own, as that's for another hardcore episode in this cock jerking series. In the meantime, sit back, get those cocks in your hands and watch this great hardcore movie from MEN made for 'Drill My Hole.'
This movie starts off with Colby Jansen telling us that there are over 8 million people in this city, but all he wants is one, and that is the good looking Tommy Regan. He has tried to speak to him in the park, said 'hi' to him at the supermarket, but Tommy just doesn't seem interested. Colby has tried everything, almost. As he is also an FBI agent, he plants a bug on Tommy as he walks past him. Now all Colby has to do is sit, wait and watch to see what Tommy likes and dislikes, and discover how to get him on his own.

As Colby sit and listens, he hears Tommy going into his apartment and as he speaks to his live-in boyfriend, Wesley Woods. Colby doesn't sound too happy about this, but carries on listening.
Back in the apartment, Wesley is more than happy to see Tommy. As he stands up, he drops his robe onto the floor showing off his athletic body, tattoos and his seven inch cock which is already sticking right out. Tommy smiles back at him and almost rips his clothes off so he can grind his thick dick over Wesley's as they kiss and cuddle.
'Come over here and suck this dick, babe,' Wesley says as he moves around. Tommy gets on his knees between Wesley's cock and takes it in his mouth. Wesley is soon moaning and groaning with sheer pleasure as Tommy deep throat's his cock and plays with his heavy and full ball-sack at the same time.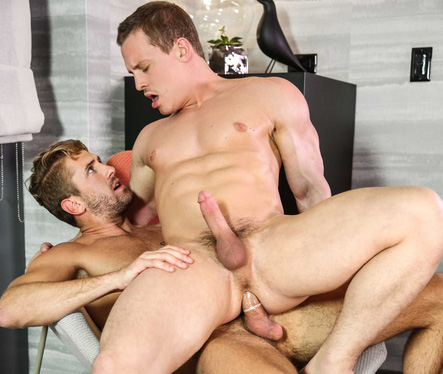 (Just look at the lust in these hunky guys eyes, you can see they are not acting, they are really getting into it, and Tommy Regan's lips were born to suck cock.)
Tommy kneels up in the chair, and as he bends over the back, Wesley squats down behind him and gets busy with his tongue as he probes as deep as he can go inside Tommy's smooth hot asshole. Tommy gets even more excited as he feels Wesley's unshaved chin grinding between his cheeks and against his puckered up ass. As Wesley carries on licking, he digs his fingers into Tommy's firm butt and slaps it a few times, only stopping his licking to look at his saliva that is dripping down over Tommy's swinging ball-sack.
Tommy cries out even louder with excitement when Wesley stands behind him, rolls on a condom, and slides his aching hard cock into Tommy's soaking wet ass. Wesley soon joins in with the moaning and groaning as he feels Tommy's ass muscles clamp around his cock like a vice as he drills his meaty cock in and out.
The camera zooms in close when Wesley lies down and Tommy straddles his cock and rides him like a cowboy. Wesley Woods then sucks on Tommy's cock for a while, and then drills his ravaged crack in the missionary position.
The action heats up as these two horny men fuck like animals on heat. Their noises get louder and louder until Tommy's body stiffens, and a whole load of thick creamy jizz shoots out and splatters over his muscular smooth body. The camera zooms in again, and this time we get a great close up of Wesley's cum shooting out of his cock as it pours over Tommy Regan's chest.
The movie ends with a close up with the bug still on Tommy's shirt which reminds us that Coly Jansen is still there listening in. Hopefully he jerked off to the sounds of their love making in the front of his van as people walked on by, but that's another fantasy all together.
The guys
Tommy Regan is a cute hunk with a few muscles on his smooth body. He is an eager bottom with a seven inch cut dick. He has short brown eyes, Hazel eyes and is five feet seven inches tall. He has starred in 12 hardcore movies for MEN, and in his last movie he gets his ass drilled by Ricky Decker in 'Mine' which has been released by 'Gods Of Men.'
Wesley Woods is a six foot hunk with a few tattoos and a few hairs on his chest. He is also a bottom, but likes to top with the right man. He has a seven inch cut dick, has black hair and smouldering brown eyes. He has starred in seven hardcore movies for Men.com, and in his next movie, he gets his butt fucked by Colby Jansen in 'Spymaster Part 2.'