Search results: 8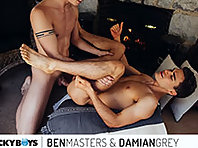 BEN MASTERS & DAMIAN GREY
After giving Damian a little taste of semi-public sex, Ben takes Damian back to the house for a more private make-out session on the porch. There Ben sensually explores Damian's body and goes down on him, sucking his big cock and balls and enthusiastically giving him a heavy dose of pleasure.
Time: 06:00
Added: October 27, 2018
Views: 1266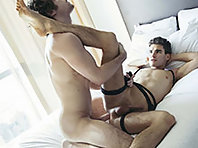 CALVIN BANKS & DAMIAN GREY RAW
Calvin decides to give an already rock-hard Damian the same kind of sexual pleasure with a little teasing and full, deep sucking. BUT he adds a little extra for his boy-toy with a little spanking and rimming of his firm rump, followed by replacing Damian's blindfold with a Shibari harness.
Time: 06:00
Added: February 1, 2019
Views: 1704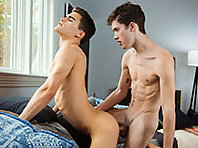 DAMIAN GREY & SEAN FORD RAW
Sean wants it all though and slowly Damian slides in his cock. It doesn't take long for Damian fuck Sean deeper & faster and with raw passionate making out and in the throes of this Sean tells him he wants to top.
Time: 06:00
Added: January 5, 2019
Views: 1675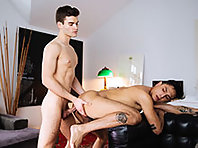 MATEO VICE & DAMIAN GREY RAW
Mateo lets Damian ride his cock the way he likes it..which is also as Mateo likes it. So when Damian remounts Mateo in reverse cowboy they achieve mutual compatibility very easily...from slow & sensual to hard & deep. And they're both on the same page when they decide to flip.
Time: 06:00
Added: March 10, 2019
Views: 1139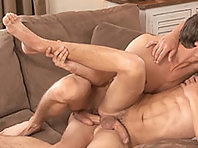 Liam Efron and Damian Chapelle
Sometimes there's chemistry, and then there is CHEMISTRY. Even if Damian is able to mix the 2 different meanings up he doesn't mix anything up when showing the real attraction that him and Liam share.
Time: 05:00
Added: October 28, 2018
Views: 766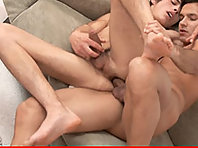 Marc Ruffalo and Damian Chapelle
Don't be too confused with the boy's banter at the beginning of the clip, the gist is that they thought that they looked enough alike that they could be cousins (it probably has something to do with their noses). What is not confusing here is the chemistry between the boys once the action starts, with Damien enjoying every second bottoming for Marc.
Time: 05:00
Added: January 8, 2019
Views: 772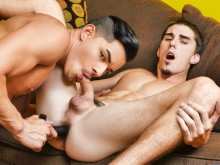 Not A Bitch Boy
Ethan Slade reveals Damian Kyle who is actually the bottom bitch following Damian jokes about it.
Time: 09:00
Added: September 20, 2017
Views: 10190