Biggest Catch Part 4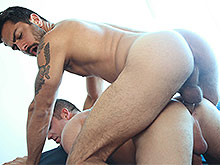 06:00
40015 Views
August 13, 2015
Biggest Catch Part 2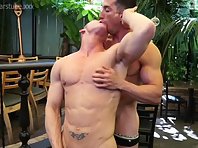 06:00
15019 Views
July 30, 2015
Killian James has only been in gay porn for a couple of years, but he went from being an escort to porn star. In fact, he went from being an accountant for three years first before he had his own fitness business, then he became an award winning escort, to be exact.
He has always kept in shape and doesn't want to live his life full of regrets. He got fed up and bored of accounts, so he set up his fitness studio. After a while he did the same thing again, he got bored of it all and went into escort work, which he still does. He is also lucky enough not to have had a bad client. He doesn't have any hobbies as he spends two hours a day working out, and then it's more or less on to doing his escort work.
He has that killer look that everyone wants. He is cute, young and smooth with a great body. He is five feet eight inches tall with short brown hair and seductive brown eyes. Killian is versatile with a seven inch cut dick, a nice set of balls hanging down and a firm tight ass.
Killian has worked for a couple of porn companies within a couple of years including making two hardcore movies for MEN which are 'Biggest Catch', where he starred with Casey More in part 2, and Adam Ramzi in part 4.
One thing about Killian is that he is a strong promoter of safe sex which is why he started working for MEN. They are one of the biggest companies around that make sure that all their movies, without exception, are filmed with men having safe sex.
This is also a reason that Killian doesn't work for a certain other company any more after they tried to get him to do a barebacking scene, it is alleged. Apparently Killian was so outraged that he put a strong message up on his twitter account, (an interview on line reports), but soon took it off.
Killian cannot understand why people have unsafe sex. It's not just about being safe for yourself, it's about being safe for other people. Also, and you have to admire him for this, he believes that being a porn star also means that you are living a fantasy for someone else. So you don't want to have unsafe sex on camera, just in case that viewer will go and do the same thing. They will try and copy you.
He loves the LGBT community and would not want any harm coming to anybody. In fact, he can also see himself in a few years' time running a bed and breakfast for the LGBT community only.
Not only has this man got an amazing body and tight asshole, he obviously has a caring and loving heart. Good on him for standing up for his rights. But, let's just hope that he doesn't get bored with the porn world and go and do something else instead as he will be sorely missed.