Big Dicks At School with Matthew Rush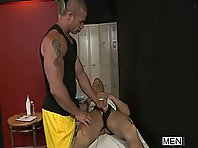 Matthew Rush at Big Dicks At School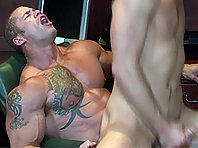 03:04
16088 Views
April 9, 2014
Devin Adams fucking Matthew Rush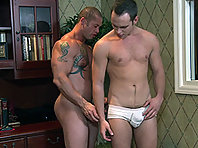 There are not many men around that have as much muscle as Mathew Rush, he even gives Arnold Schwarzenegger a run for his money. He also has a fantastic tattoo of a lizard which comes around his chest, and makes you stare at his small dark nipples. He is a gentle six-foot giant with a great smile and an ass that is so tight you could bounce off of it. He is bi-racial and was born in September 1972. He has short brown hair, smiley hazel eyes and he is versatile with a tasty thick eight inch circumcised cock and a great set of tight balls. His real name is Greg Grove, which is also the name of his popular Twitter account.
Mathew is a personal trainer and when he was in a bar in Ohio a man came up to him and gave him his card, telling him to give him a call if he ever wanted to be in a gay porn movie. (I obviously go to all the wrong bars as this has never happened to me.) He put the card in his pocket, and it wasn't for a while that he looked at it and gave him a phone call.
His first company in porn was Falcon, who gave him an exclusive lifetime contract in 2001. In 2002 he won Best Newcomer, and Best Solo Awards at the Grabby Award ceremony. After a while, however, Mathew was released from his lifetime contract with them and went to work with a whole load of exciting companies. But also, on top of this, Mathew also made the transition from porn to mainstream acting when he was in 'Third Man Out', and 'Another Gay Movie.'
Mathew then fell in love and left the porn world for good, only to come back a year later to give us even more.
Mathew Rush also starred in three hardcore movies for the award winning porn team, MEN. His first was in March 2012 in the cock jerking movie 'Train Me' with Corey Martin. His second movie was 'I'm Horny', which I am sure was manufactured for Mathew as he is always horny. In this movie, he bends Chris Tyler over and punishes his asshole with his thick dick as he gives him a good battering. His last movie is called 'The Intern', where Devin Adams straddles his cock as he sits on the chair in his office.
In the porn world there are plenty of porn stars, but Mathew Rush is one of the true big names, and is a real star.