'Tarzan: A Gay XXX Parody Part 1', starring Colton Grey and Luke Adams, is the newest hardcore porn fantasy made by the award winning team Men.com and released by Super Gay Hero.
Super Gay Hero is a site like no other. Fantasy role play at its best, and even though it's a pretty new site with only 39 hardcore movies on it so far, these fantasies will have you stroking on your meaty hard cocks as they drip with pre-cum as you watch all your super heroes naked and fucking each other's tight muscular assholes. They also shoot cum faster than a speeding bullet in 'Batman Vs Superman.' Or in 'Star Wars, A XXX gay parody' where Hans Solo gets his ass punished by Darth Vader's big hard cock. These movies are full of great porn stars from young twinks to hairy hunks and bears.
All the movies are of the highest quality and are offered in MP4 format and are DRM free. There are three sizes of downloadable full scenes, and the newer movies are offered at Full HD sized at 1,920 x 1,080. All movies also come with great photo sets, and most are sized at 1,663 x 2,495 and there are approximately 20-100 photos in each set. These photos can be downloaded into a zip file and can be watched individually or in a slideshow.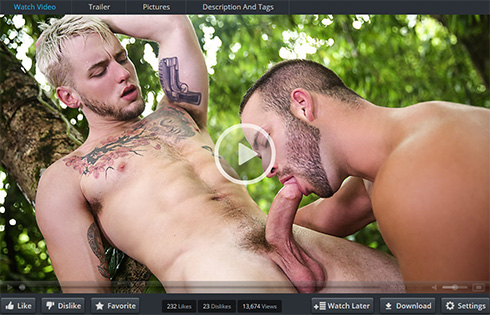 The Tarzan Gay Movie
'Tarzan: A Gay XXX Parody Part 1' starts off with the sun over the sea, we can hear the sea, and the wind is gently blowing. The sound of drums in the jungle start to bang, water is cascading down from the waterfalls and the forest is lush with trees, and grass on the ground. Various animals are filmed to give you a real feel of where they are.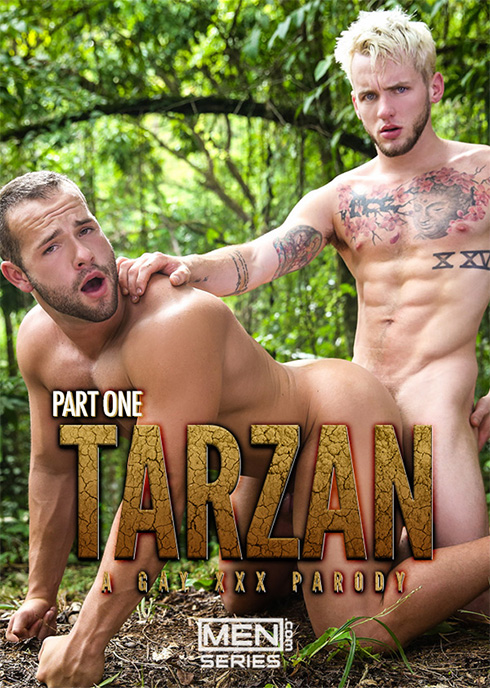 A mayday call can be heard and a voice saying that their boat has had an accident and needs they need help urgently. A handsome man, Tarzan, played by Diego Sans, moves swiftly through the jungle. In just a loin cloth, he runs through the jungle with ease. He sees three men, Colten Grey, Luke Adams and another man in the jungle and pulls them to safety and leaves them in them amongst the dense trees away from harm.
Tarzan watches them through giant leaves and out of site as the three men wander what has happened. The other guy (Tobias) goes off in search to find out what has happened to their boat, and to see if he can find out where they are, leaving Colton Grey and Luke Adams alone, or so they think.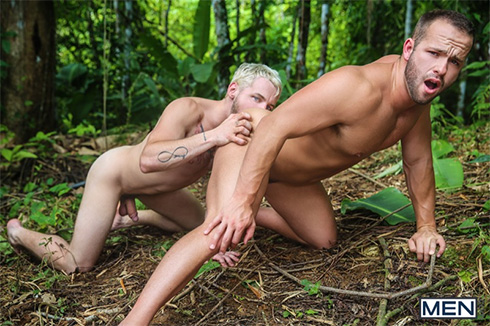 Cue atmospheric music as Tobias gets the feeling he is being watched as he goes in search other boat. He hears the leaves and trees making snapping sounds. He sees a figure darting in and out of the shadows. The tension picks up as he looks franticly around. He gets a shock when all of a sudden, Tarzan jumps down looking a wild, but sexy animal that looks hungry for some tasty meat.
The movie goes back to Colton and Luke where Colton has apologised for getting them in the boat in the first place. Colton kisses Luke fully on the lips and they both smile into each other's sexy eyes.


They grind their hot sweating bodies together as they kiss. They take their tops off and Luke chews on Colton's delicious hard nipples. Colton sighs with desire and sinks to his knees in the dirt as Luke's pants hit the ground and his seven inch cock sticks out rock hard. As Colton opens his hungry mouth, Luke grabs him by the hair and rams his thick cock into between Colton's lips as he face fucks him. Luke's sounds of pleasure can be heard through the jungle as Colton gently squeezes his heavy balls. Luke bends over as his dick gets serviced and he slaps Colton's tight ass a few times and runs a finger over his tight smooth asshole.
Luke gets on all fours like an animal on heat as he offers up his ass. He cries out with sheer pleasure as he feels the rough beard of Colton as it scrapes over his asshole as he buries his probing tongue as deep as he can between Luke's amazing bubble butt.


Colton gets up on his knees and drives his eight and a half inch cock into Luke's slutty wet asshole as he drills him doggy style. He fucks him hard and fast never giving up the beat. Both men shout out with joy as Luke feels that cock banging against his prostate, and Colton feels the muscles in Luke's ass holding on to his cock like it was in vice.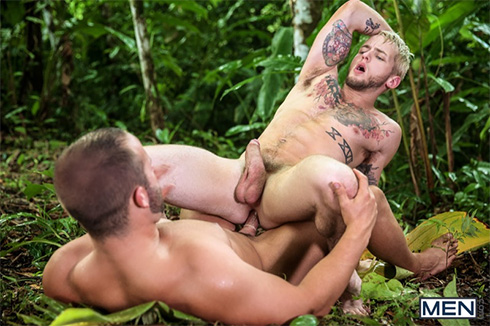 Colton then leans against a tree with Luke licking his balls and sucking on his cock which has just been up Luke's tight ass. He gets down on the ground, and this time Luke licks and fucks his asshole just as hard as he had been fucked. Luke then lies down in the dirt and as Colton rides his cock, he gets covered in Colton's thick creamy man cum. Luke Adams stands up and he jerks franticly and sends his hot jizz onto Colton Grey's young face and onto his designer beard.
As they stand up and kiss still stark naked, they hear rustling in the bushes and wonder if it's Tobias coming back, but they really are not sure and look a bit worried.
To be continued…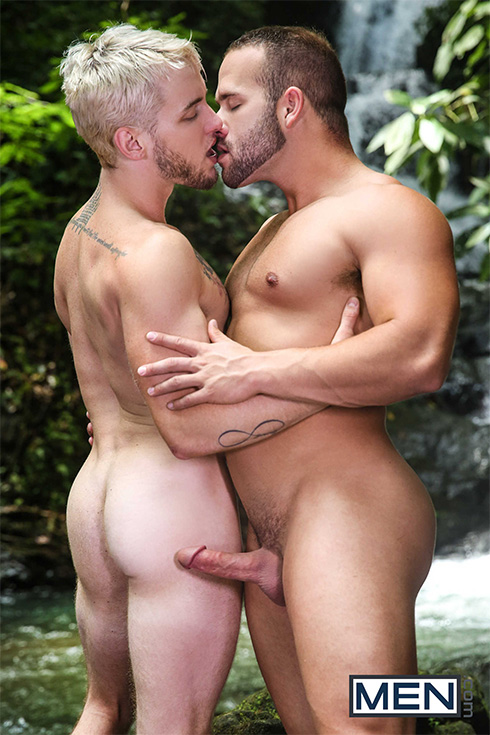 The Sexy Gay Guys
Colton Grey is a good looking young man with a smooth tattooed body. He is five foot six inches tall, has brown hair and amazing blue eyes. He is a versatile bottom with a juicy thick eight and a half inch cut cock and has starred in 13 hardcore movies for Men.com. His last movie was with Diego Sans (Tarzan) where he gets his cut butt fucked in 'Release.'
Luke Adams is cute with a schoolboy face even though he is mainly unshaved, and he can get into positions that we can only dream about. He is five feet seven inches tall, Has brown hair and sexy green eyes. He is a versatile bottom and has a seven inch dick which is permanently hard.
Luke has starred in 38 hardcore movies and starred as Luke Skywalker in the 'Star Wars: A Gay Parody' series where he gets his bubble butt drilled by many men including a group of horny storm troopers.