Dante Colle pounds Will Braun's nerdy asshole in this hot flick that has been filmed by Men.com and released by Drill My Hole. Men.com have eight amazing sites, and Drill My Hole is the biggest of them all.
The Gay Pornstars
Will Braun admits to being a bit of a nerd. He loves to spend time on his skateboard and enjoys sitting down quietly and reading his books. He may be a nerd, but he has such a sweet, boy-next-door look that even your granny would be happy if you went out with him.
He has a fit, young body, and his beautiful bubble butt loves to have a hard cock deep inside. Will is five feet six inches tall, and he has dark brown hair, innocent blue eyes, and is versatile with a seven-inch cock.
Will has been in 112 movies for Men, and as well as having sex with Dante Colle in this movie, he has also had sex with lots of other pornstars such as Ryan Bones, Diego Sans, and he has even been drilled by Rafael Alencar' s humongous dick.
The Snap Series
Will Braun is in a t-shirt and shorts trying to workout in the living room when he falls over, and his roommate, Dante Colle, offers him some help with his workout routine. Will agrees, and he gets on his feet, his ass is way up in the air, and his hands are on the floor. Dante gets right behind him and tells him to push back. His mind is filled with lustful ideas as he feels his hardening cock between Will's bubble butt, and he tells him to push back harder. Snapping his fingers, Dante makes Wills shorts and pants disappear, and he can now see Will's beautiful naked bubble butt against his excited cock.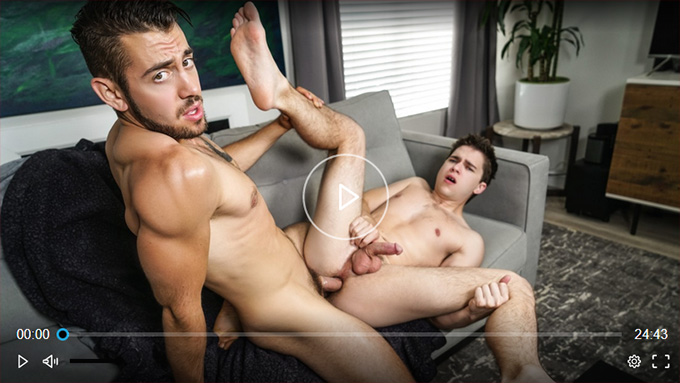 With another click of his fingers, Dante's pants are now gone, and his boner is bobbing up and down in anticipation. Will is almost bent double, and Dante inches his rock-solid boner deep into Will's super tight butt hole. The camera goes in close, and we can see Dante's pubes grazing against Will's asshole as he sinks in balls deep.



Will's mouth gets some much-needed exercise as he stretches it wide, and tastes Dante's cock and slowly sucks him off. Dante returns the favour and has Will groaning in ecstasy as his cock gets sucked. His manly balls get a nice massage at the same time.
Will Braun gets his asshole stretched again when he rides Dante's cock, and then Dante gets him on his back and fucks him senseless. Dante Colle cums over Will's body and hard dick, and as Will dumps his cum over himself, Dante cums for a second time, even before Will has finished emptying his balls.



There's not much of a storyline here, but the fucking is intense, and seeing three cum loads from these two guys certainly got me excited. For more man-on-man fantasies, check out Men.com where they have over 1,000 horny guys starring in over 3,200 movies. They update 4 times week, and just two of their wank-worthy sites you have included are the famous Str8 To Gay and Big Dicks At School. Enjoy!