Three guys with big dicks, Cliff Jensen, Damian Kyle and Myles Landon, star in 'Coffee Time.' This hot and horny gay porn movie has been filmed by Men.com and released by Drill my Hole. What more you could you ask for when you have two hot tops and a gorgeous young power bottom?
Todays hot gay porn stars in action
Cliff Jensen is a hot looking all exclusive star to Men.com, and he has a slightly hairy chest on a muscular, tattooed body. He is six feet three inches tall, has brown hair, amazing green eyes, and he is a top with an eight-inch cut dick and a juicy pair of big balls.
Cliff has starred in twenty-four hardcore gay porn vids for Men.com, and in his last movie, 'Spiteful Ex', he plays an escort who gives Wesley Woods the fucking of his life.
Damien Kyle is a power bottom with a smooth lean body and a cute young face. He is five feet eleven inches tall, has brown hair, sexy green eyes, and he has a seven-inch cut cock.
Damien has been in 7 hardcore movies for Men.com, and in his first movie, 'Every Town Secrets Part 3' he got ass fucked by the gorgeous Paul Canon.
This is Myles Landon's first gay porn movie with Men.com, and he is five feet ten inches tall and full of muscle. Myles has short brown hair, beautiful blue eyes, and he is an eager slightly mature top with an eight-inch cut cock which is built like a beer can.
The Story of this gay porno scene from MEN
Myles Landon is sitting in the kitchen working on his laptop when Cliff Jensen and Damien Kyle come into the room. It is morning time, and they are in the mood for something hot and wet inside them. As Cliff and Damien start to make coffee, Damien squats down and takes Cliffs thick juicy dick in his mouth and starts sucking on it without Myles seeing what they are up to.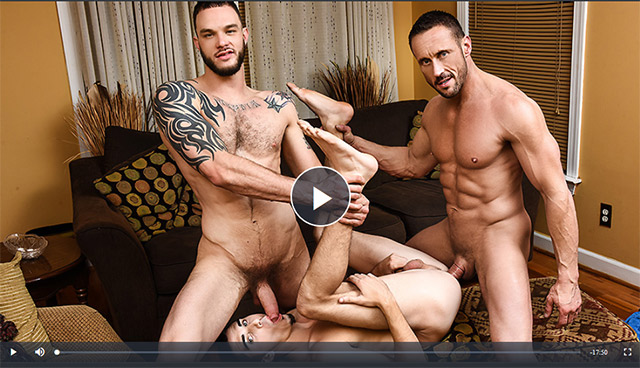 Cliff and Damien move into the living room where Damien carries on giving Cliff a fantastic blowjob. They are trying to be quiet so that Myles doesn't hear what they are up to. But, as they get naked, and Damien sits on Cliff's dick, he can't help shouting out as that dick almost splits him wide open.
Myles comes in as he hears the noise, and after telling them not to stop, he gets on the couch and starts sucking Damien's dick as he gets his ass seriously fucked. Myles then stands up, and the only thing to shut Damien up is for Myles to shove his thick cock in his mouth. Damien ends up having eight inches of cock from behind, and another eight inches in his mouth, and he is in heaven a she gets spit-roasted.
Damien Kyle is put on his back, and as he sucks one cock, the other one carries on fucking him. Cliff Jensen and Myles Landon take it in turns fucking his sweet young ass and ramming their cocks into his hot mouth in the missionary position. After a while, these three hot and hung guys can't hold back. Kyle is the first one to shoot his load as he carries on getting banged, and then both Cliff and Myles shoot their sizzling thick cum all over Damien's smooth lean body.
Coffee Time is a great threesome with twenty-three inches worth of cock fucking, sucking and shooting their thick heavy loads. This hot gay porn movie is just one of the many fantasies that Men.com film, and it is in high quality with great sound. At the moment, Men.com have 2,181 movies, and this is updated on a daily basis. These movies are also full length, unlike any of those free gay porn sites around that only show off a few seconds, and quite often have annoying pop up adds. Men.com is an award-winning network that has ten sites under its name such as Big Dicks At School, Men Of The UK, and The Gay Office. You can also watch these porn movies on most mobile phones, just don't get caught in the office, unless you want to be caught that is.